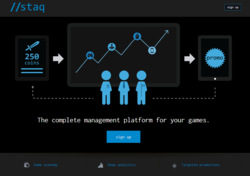 Modern game developers need the tools that //staq is building to survive the transition to digitally distributed games with in game monetization and analytics.
- Ed Fries, former Vice President of Microsoft Game Studios
San Francisco, CA / Redmond, WA (PRWEB) March 18, 2013
//staq, the game management platform and revenue analytics solution for service based games, today announced that it is among the first companies selected by Microsoft for inclusion in its Windows Azure Store. The announcement comes as //staq launched the private BETA release of its service on March, 11th, 2013.
The Windows Azure Store allows any developer building web applications on Windows Azure to quickly and seamlessly add a range of third-party technologies and functionality to their applications. The beta version of //staq includes real-time monetization analytics, iOS backend receipt verification and a Unity3D SDK.
//staq monetization analytics are the first Big Data solution deeply integrated with the monetization mechanics of free-to-play games. By using //staq as part of the Windows Azure Store, game developers leverage a massively scalable cloud infrastructure to run their games, while game producers use real-time data to improve player engagement and retention. //staq's unique approach delivers the developer experience game studios and publishers want.
"There is a sea change in the way video games are monetized and distributed. Studios have been selling games in boxes for decades, but now, they must monetize through In App Purchases. //staq makes it easy to embrace this new model across different platforms, while letting developers focus on building their game." - Massimo Andreasi Bassi, founder and CEO
"Modern game developers need the tools that //staq is building to survive the transition to digitally distributed games with in game monetization and analytics." - Ed Fries, former Vice President of Microsoft Game Studios and advisor of //staq
In coming weeks, //staq will release in-game promotion tools, virtual currency and virtual store management, Android and Steam SDKs as well as more integration with third party tools and platforms.
About Staq Inc.
Staq is a game management platform company, and a recent graduate from the Microsoft Accelerator Powered by TechStars. The company provides an end-to-end solution for monetizing and optimizing free-to-play games on mobile, web and consoles.
Staq is founded by three Italian serial entrepreneurs: Massimo Andreasi Bassi, Luca Martinetti and Francesco Simoneschi.
For more information, visit http://www.staq.io.