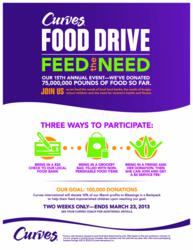 Miami, Florida (PRWEB) March 12, 2013
Branches, Inc. (formerly South Florida Urban Ministries) has joined forces with Curves of Palmetto Bay to help feed hungry families in our community.
Curves of Palmetto Bay has selected Branches to be the recipient of their 15th Annual "Feed the Need" food drive. This two-week-long food drive will help provide healthy snacks and feed children and families at Branches Florida City, which provides quality after-school programming and holistic family services.
One can participate in this food drive by bringing a $30 check to Curves for the Branches Mission's food pantry, or a grocery bag filled with non-perishable food items. By donating either a check or a grocery bag, the sign-up fee to join Curves of Palmetto Bay will be waived.
Curves will be accepting all non-perishable food items, but the following healthy snack and food items are encouraged: Granola, Crackers, Jell-O, pretzels, pudding, fruit snacks, raisins, cookies, peanut butter, jelly, breakfast bars, cereal bars, salsa, tortilla chips and goldfish.
WHERE: Curves, 14413 S. Dixie Highway. Palmetto Bay, FL 33176
WHEN: March 11th – 23rd, 2013
For more information, or to join Curves of Palmetto Bay, please call 305-232-6646.
For further details about Branches, please contact Isabelle Pike at 305-442-8306 x1002 or ipike(at)branchesfl(dot)org. To make a gift to Branches, please visit http://www.branchesfl.org and click on DONATE.
About Branches:
For 40 years, Branches (formerly South Florida Urban Ministries) has made a positive impact in the community by delivering on its mission to serve, educate and inspire people through student, family and financial stability services. Branches provides long-term, holistic services for motivated individuals and families. We help people grow deeper and climb higher in life by building a foundation through education so they can achieve their goals and fulfill their potential.