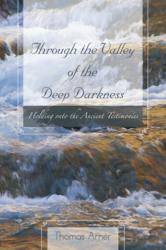 "It was suggested that I put our experiences into a book to help others going through losses," Arner says. "The book became part of our therapy for dealing with the rage and our need for reconciliation."
Charlottesville, VA (PRWEB) March 25, 2013
Through the Valley of the Deep Darkness by the Reverend Thomas Arner shares his journey of dealing with grief, death and devastation.
On October 10th 1999, Arner's son-in-law set fire to his family's apartment, killing his one-year-old son and leaving his wife with second and third degree burns on 70 percent of her body. He was later charged with capital one murder, arson and attempted murder. He was sentenced to 50 years in prison without bail.
Written at the suggestion of Arner's grief counselor, the book serves as a guide for those seeking to deepen their faith and spiritual development as well as those who face valleys of deep darkness.
The book serves as a testimony to the resources that sustained Arner and his wife and enabled them to overcome the anger that grew to all but extreme proportions.
"It was suggested that I put our experiences into a book to help others going through losses," Arner says. "The book became part of our therapy for dealing with the rage and our need for reconciliation."
Pastor Arner hopes that the narrative will enable others to discover their resources and come through their personal valleys of deep darkness. The story leads to understanding the dynamics of grieving and the need for community support.
Through The Valley of the Deep Darkness
By: Thomas Arner
Softcover: $17.48, ISBN: 978-1-46695-502-8
Hardcover: $27.48, ISBN: 978-1-46695-504-2
E-Book: $3.99, ISBN: 978-1-46695-503-5
Available at barnesandnoble.com, amazon.com and westbowpress.com
About the Author
Thomas Arner is a writer and ordained minister. He served with the United Church of Christ for 38 years and contributed to the Voices from the Valley: Rural Ministry in the United Church of Christ. Additionally, he served as chaplain for Manor Health Care and Brookline Village, State College, PA. He is a member of the chaplaincy team at Augusta Health Care, one of the Top 100 Hospitals in the United States. He served there since 1997 to the present. As a writer, he contributed monthly religious articles for the Center Daily Times, State College, Pennsylvania, written under the pseudonym T. Mortimore Mouse. He currently lives with his life in Virginia.
###