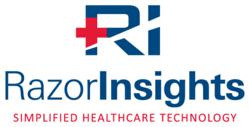 99% of hospitals send 100% of their patients the same bill; Patientco sends every patient a unique bill
Kennesaw, Georgia (PRWEB) March 12, 2013
RazorInsights, a leading provider of fully-integrated, SaaS-based health IT solutions for Rural, Critical Access and Community hospitals today announced its partnership with Atlanta-based Patientco. This collaboration will make engaging patients and collecting patient payments a seamless and integrated process for Razor's HIS (ONE-Health System Edition/ONE-Enterprise Edition) clients.
"We're excited to be incorporating Patientco's solutions into our financial management system," said CEO Reed Liggin, R.Ph, MBA. "This functionality will allow our HIS clients to receive payments and improve their overall accounts receivable. Our hospitals will no longer have to spend their valuable time handling and depositing paper checks or processing credit cards."
Patientco's Patient Financial Engagement Platform integrates seamlessly with RazorInsights' HIS system allowing its health care providers to simply log in to their Provider Launchpad and access posted and pending payments, deposits and secure messages from patients. Patientco's intelligent technology will manage all outbound communications to increase patient payments. Patientco will process these payments – both credit card and paper check – and reconcile them directly to the patient accounts. This will increase efficiency and decrease both the cost to collect and account reconciliation errors.
Patientco CEO Bird Blitch says, "Our partnership with RazorInsights gives our health care providers a totally integrated solution for patient financial engagement. 99% of hospitals send 100% of their patients the same bill; Patientco sends every patient a unique bill."
About RazorInsights:
Based in Kennesaw, Georgia, RazorInsights is a dynamic healthcare information technology company. In keeping with the principle of Occam's Razor, they have created a simplified HIS solution for Rural, Critical Access and Community hospitals. Introducing ONE (ONC-ATCB 2011/2012) — a single-database, cloud solution offering a simple user experience with cutting-edge clinical tools and industry-standardized data. Hospitals can expect to improve their performance and bottom line with ONE from RazorInsights. To register for a live product demo or for more information, visit razorinsights.com or call 770-308-4111.
About Patientco:
Patientco's suite of proprietary technology tools helps providers communicate effectively with their patients to give them a better understanding of their healthcare expenses. Patientco's Software as a Service (SaaS) application produces easy-to-understand statements, facilitates direct provider-to-patient communication and offers patients their choice of secure payment options, thereby decreasing provider accounts receivables. Patients can uniquely manage, track and pay their healthcare expenses for all their providers in one location. Patientco's technology ensures that provider systems can easily reconcile patient information securely and accurately into their Electronic Health Record (EHR) systems in an efficient and easy way. To learn more, call 888-747-2455 or visit http://www.patientco.com/providers.