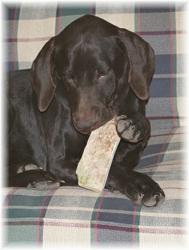 Hidalgo, IL (PRWEB) March 13, 2013
Perfect Pet Chews this week released its latest assortment of all natural antler chews. Created using only naturally shed antlers from North American deer, elk and moose populations, these chew toys will make even the most jaded dog sit up and wag its tail.
Unlike synthetic and foreign made plastic or rubber chew toys, Perfect Pet Chews utilizes only naturally grown North American deer antlers, elk antlers and moose antlers. The antlers are free of hazardous and harmful chemicals, dyes and preservatives making them truly an all natural chew toy. These antler chews come to you exactly how nature created them. And best of all, these are dog treats made in the USA!
Because the antler is bone, it is naturally rich in calcium and minerals to enhance your pet's overall health and well being. With the antler comprised of solid bone, antler chews will not splinter or shred, like regular plastic chew toys, making them one of the longest lasting natural chews available to you on the market. Natural antler dog chews are also virtually odorless making them more appealing than smelly rubber or plastic chew toys. With no detectable odor to humans, they have an appealing scent to a dog's discerning nose.
These all natural chew toys come from the natural antler shedding process from deer, elk and moose populations. Each year millions of male deer, elk and moose shed their antlers across North America providing the perfect solution to your pet's chewing needs. Antlers truly are the perfect renewable resource. Plus, since the antlers are left behind naturally, no animals are hurt in creating these toys. Unlike, other tendon or bone chew toys on the market.
Perfect Pet Chews offers three varieties of antler dog chews: deer antler, elk antler and moose antler. Each animal's antler type has some minor variations in composition and scent. With each species having a distinct scent to your dog's nose, you may find that your dog enjoys one variety over the others. The benefits of the chew toy are equal regardless of antler preference.
Since all dogs, regardless of size or breed, enjoy chewing on things, Perfect Pet Chews offers 16 different deer antlers, elk antlers and moose antlers chews ranging from miniature sized toys for dogs under 10 lbs. up to mega-sized which are recommended for large dogs 100+ lbs in size.
For more information on Perfect Pet Chews' natural antler pet chews, please visit http://www.perfectpetchews.com/.