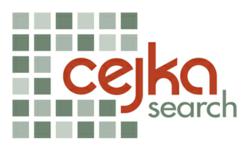 St. Louis, Missouri (PRWEB) March 12, 2013
Cejka Search and Cejka Executive Search announce upcoming speaking engagements to address the real-life challenges of recruiting physicians, advanced practice clinicians and executives leaders. Topics encompass new technology organizations need to reach physician candidates, as well as the changes on the horizon for physician and health care executive careers. The experts at Cejka Search and Cejka Executive Search will present these topics at national and regional conferences, including the American Medical Group Association (AMGA) and Becker's Hospital Review Annual Meeting.
American Medical Group Association (AMGA) Annual Conference
David L. Knocke, FACHE, President, BJC Medical Group, will join Lori Schutte, MBA, President, Cejka Search, in presenting Life Lessons: Building an Efficient Medical Staff Engine Serving 10 Diverse Hospitals on March 16, 2013 in Orlando, Fla. Knocke and Schutte will apply the trends reported in the annual 2012 Physician Retention Survey to the real-life challenges of building a recruitment, acquisition and retention model for a diverse group of community hospitals.
David Cornett, Senior Executive Vice President, Business Development, Cejka Search, will preview the staffing and turnover benchmarks for physicians, physician assistants and nurse practitioners revealed in the 2012 Physician Retention Survey during the AMGA HR Leadership Council on March 13. During the Recruitment and Retention Trends Update, Cornett will examine the forces driving turnover and the relationship between organizational culture and turnover.
Physicians Practice Annual Impact on Marketing (AIM) Conference
Mary Barber, Senior Executive Vice President, Marketing, Cejka Search, will present How to Build Physician Leaders on April 3, 2013, in Las Vegas, Nev. Barber will show participants how to articulate the value of a successful leadership development program, identify a potential leader's distinguishing qualities and leverage their contribution to your practice's success in engaging the staff and community.
Allan Cacanindin, Senior Executive Vice President, Client Services, Cejka Search, will present Five Keys to Multi-Channel Recruitment Marketing on April 4 at the AIM Conference. Attendees will learn how an integrated approach to interactive and traditional marketing opens the door to recruitment and retention success in a highly competitive physician market.
Montana Medical Group Management Association (MGMA) Annual Conference
Vivian M. Luce, MBA, Regional Vice President, Cejka Search, will present What You Don't Know Can Cost You on April 17 and discuss how much physician turnover, prolonged vacancy and an inefficient hiring process cost health care organizations each year. The presentation includes sample cost models to empower attendees to exert greater control over the hidden drivers of physician recruitment costs and build a business case for retention initiatives.
Association of Executive Search Consultants BlueSteps Webinar – Job Search Strategies for Executives
On April 25, Paul Esselman, Executive Vice President, Managing Principal, Cejka Executive Search, will join a panel of accomplished executive search consultants in this BlueSteps' webinar for business school students and alumni. Esselman will discuss job search strategies and developments in the executive job market.
Becker's Hospital Review Annual Meeting
Lori Schutte, MBA, President, Cejka Search will present The Evolving Health Care Landscape: Envisioning 2030 on May 11, 2013 in Chicago, Ill. Schutte will discuss the accelerating rate of change in health care and show how economic, demographic and political forces influence the profession of medicine and the business of health care.
About Cejka Search
Cejka Search is a nationally recognized physician, health care executive, advanced practice and allied health search firm providing services exclusively to the health care industry for more than 30 years. Cejka Search recruits top health care talent for organizations nationwide through our team of experienced professionals, award-winning recruitment technology and commitment to service excellence. Cejka Search is a Cross Country Healthcare, Inc. company, a leading provider of health care staffing services in the United States.
For more information, visit http://www.cejkasearch.com or http://www.cejkaexecutivesearch.com. For media inquiries, contact Michelle Kuehler (Black Twig Communications), 314-536-8909, or Mary Barber (Cejka Search), 314-236-4410.