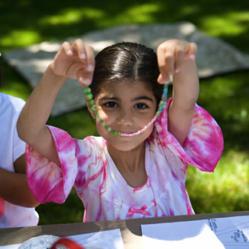 We have always been an advocate of Learning Through Experience, because this empowers children and teens to effect positive change within themselves and to others.
SOUTH SAN FRANCISCO, CA (PRWEB) March 19, 2013
Dragonfly Designs, the best jewelry camp in the San Francisco Bay Area, just launched its jewelry making Spring Camps & San Francisco Summer Camps. This camp is great for children ages five and up and parents who are looking to give their children a memorable camp experience that is different from the average. Dragonfly Designs is calling all five (5) to seventeen (17) years old boys and girls and six (6) of their friends to host a memorable camp that teaches jewelry design in their preferred location through Dragonfly Design's Mobile Jewelry Camps. The mobile camps are inclusive of jewelry making sessions using different mediums (materials included), a choice of yoga or dance sessions with a licensed instructor, healthy snacks, educational eco-hikes, and friendship building exercises. It aims to help boost creativity at a very young age, and aims to help develop problem-solving skills that will be crucial for the child's success in the future.
Are you looking to foster your child's creativity and confidence even further through a summer camp? Dragonfly Designs also offers Jewelry Camps in Mandarin to help students get language immersion in a classroom alternative setting. Dragonfly Design's Spring and Summer Camps taught in Mandarin Chinese for teens and children focus on teaching real jewelry making techniques including copper etching, enameling, stamping and dapping, bead stringing, wire work, resin pendants, finger knitting and hair jewelry. Your child will increase their vocabulary in Mandarin through art education and learn new jewelry making skills to boot! This year our camps have expanded to include dance as well as yoga plus eco-hikes to local organic gardens or open space.
"Our company offers exceptional handmade jewelry and the opportunity to create it. We wanted our clients to achieve the sense of accomplishment, consciousness, and individuality through art-based education", says Stacee Gillelen, owner and founder of Dragonfly Designs. She added "It feels great to see a child leaving after our camp with a smile on her face, with plans to start a business using the jewelry making techniques they learned, and with a mission to make a difference in this world by helping others… We just know we are doing something right!"
Dragonfly Designs also offers 4 different packages for parents or guardians to choose from. They have a full week camp (9 am to 3 pm) at $385 per camper, a four-day camp (9 am to 3 pm) for $310, a single day camp for $79, and half day full week camp for $270.00 per person (9 am to 12 pm or 12:00 pm to 3 pm). Each participant will need to pay $100 to reserve their spot and pay the remaining balance on the first day of the mobile camp.
If you want to enroll your child or if you're interested to learn more about Dragonfly Design's Spring and Summer Camps for teens and for children, or the Mobile Camps, call 650-303-1900 or send an email to Stacee at stacee(at)jewelrybydfly(dot)com. You can also visit Dragonfly Designs for more details and for other upcoming events.