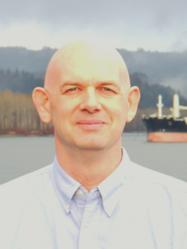 With Wilson's leadership, the Port will continue to serve the region as a significant economic development hub.
Kalama, Washington (PRWEB) March 12, 2013
Mark Wilson has been appointed by the Port of Kalama Commissioners to serve as the port's Executive Director. He will assume the role on April 1 after the retirement of Lanny Cawley, who has led Port operations since 1998.
Wilson, who currently serves as Deputy Director, has worked his way through the Port ranks. He was first hired 30 years ago as a high school student on the summer maintenance crew and has spent the majority of his tenure on the Port's development activities.
Wilson has managed a number of projects significant to the Kalama community:

Current work on the annexation and zoning of East Port which will allow the Port to develop the new Spencer Creek Business Park, a mixed-use facility for commercial and light industrial.
Development of the 75 acre Kalama River Industrial Park. Wilson's contributions to the project included planning, permitting and construction of a bridge, roads, rail, utilities, and landscaping. One hundred and fifty six thousand square feet of industrial buildings have been constructed by the Port at the Kalama River Industrial Park, and Cameron Glass (now Bennu Glass) constructed a 170,000 square foot bottle manufacturing plant.
Management of remodel project of the Port-owned grain terminal, Cenex Harvest States, in 2005 which has allowed for unit train capability, adding over 4,000 feet of rail and high speed railcar unloading capacity.
Oversight of Marine Park expansion with new picnic shelters, beach access, horseshoe pits, and tennis, basketball and volleyball courts.
"Mark has been instrumental in much of the success the port has enjoyed over the years, and he is well-positioned to carry on the many projects initiated by Lanny Cawley during his tenure," says Port of Kalama commission president Troy Stariha. "Mark has helped lead the Port's growth and expansion, real estate purchases, improvement projects, relationship with the city, and our ability to maintain and develop the Columbia River to leverage our position as deep draft port. We believe that with Mark's leadership the Port will continue to serve the region as a significant economic development hub."
Wilson is a lifelong Kalama native and understands fully the role the port plays in the community. His vision for the area includes attracting businesses that provide stable, family wage jobs, and the development of recreational areas to benefit the community as a whole. Wilson envisions the continuation of operating within a budget that does not require the collection of property taxes from those residing in the Port district.
Wilson, 46, is married and has two teenage daughters. He gives generously of his time, serving on many professional and local committees and organizations such as Envision Kalama, Washington Public Ports Association, Pacific Northwest Waterways Association, and Pathways 2020.
About Port of Kalama – Where Rail and Water Meet: The Port of Kalama is located in Southwest Washington on the Columbia River and immediately off of Interstate Highway 5. The port exists to induce capital investment in an environmentally responsible manner to create jobs and to enhance public recreational opportunities. Port of Kalama's industrial area includes five miles of riverfront property adjacent to the 43' federally-maintained deep draft navigation channel of the Columbia River. The Port is served by the Burlington Northern/Santa Fe and Union Pacific railroads. There are over 20 industries located at the Port of Kalama, employing over 800 people. Port of Kalama offers all the superior facilities businesses need to thrive, and an unsurpassed quality of life. The port offers shovel ready sites, a new Industrial Park, state of the art Marine Terminals and transportation accessibility to rail and highway all just a 25 minute drive to the Portland International Airport. Port of Kalama also offers high-bandwidth communications, with dual access fiber-optic service to Seattle and Portland. Properties currently available at the port for businesses wishing to expand and thrive: http://www.showcase.com/lnewman@portofkalama.com Visit http://portofkalama.com.