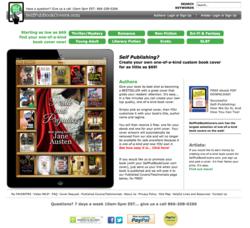 The ability for authors to customize premade book covers themselves online—and have instant access to it—has never been done before.
(PRWEB) March 13, 2013
An author and an artist come together to create a "novel" solution to help indie authors sell more books with a new online marketplace featuring more than 1,000 unique book covers.
SelfPubBookCovers.com is the first ever online resource for self-publishing indie authors of all genres to find, customize and immediately download the perfect covers for their books. It also enables graphic artists the opportunity to post their cover designs for sale at the price they choose. The cover is then taken off the website, never to be bought again. The ability for authors to customize pre-made book covers themselves online—and have instant access to it—has never been done before.
Previously, indie authors either paid hundreds of dollars for a custom cover, waiting weeks for it to be ready to upload, or bought a stock photo and slapped a title and author name on it themselves. SelfPubBookCovers.com contrasts sharply with stock photo sites, where we see clones of the same book cover after multiple authors use the same image for their book covers without altering it, or pre-made cover sites with only a handful of covers that still need to be customized by the artist.
Self-publishing is growing, with more than 150,000 new self-published book titles released last year. The self-published books that hit the New York Times bestseller list all have one thing in common: amazing book covers that rival any cover made by "The Big 6," as the huge NY publishing houses such as Simon & Schuster and Penguin are called.
With the rise in self-publishing, would-be authors with manuscripts gathering dust in their desk drawers (or on their hard-drives) are finding it easier than ever to get their books into the hands of readers. Unfortunately, many of these self-published books are published with DIY eBook covers so poorly made that many readers bypass some wonderful books based on the cover alone.
"You may have written a potential bestseller, but no one will know if your cover doesn't grab readers' attention—people do judge a book by its cover," said Shoshanna Evers, a critically acclaimed traditionally and independently published author and co-founder of SelfPubBookCovers.com. Indie author Gina Ardito, who recently bought two covers, said "I've already seen an increase in sales since I've updated my books with these covers."
Rob Sturtz, a freelance graphic artist who co-founded SelfPubBookCovers.com with Ms. Evers, said "This is a partnership between a multipublished author who knows what writers are looking for, and myself, a graphic designer who knows what artists need to open up another revenue stream and tap into the self-pub indie market. I talked with one author who visited the site to look at our covers for story ideas," he said. "She ended up choosing half a dozen."
About SelfPubBookCovers, LLC:
SelfPubBookCovers, LLC is a partnership between author Shoshanna Evers and graphic artist Rob Sturtz. Launched in February 2013, SelfPubBookCovers.com is already revolutionizing the self-publishing industry, establishing itself as the place to go for a one-of-a-kind professional book cover at a fair price, with many covers starting at just $69. Shoshanna Evers is a critically-acclaimed Amazon Erotica Bestselling author who has written dozens of sexy stories including the self-published Overheated, and The Enslaved Trilogy, which releases in April 2013 from Simon & Schuster. Rob Sturtz is an entrepreneurial professional graphic designer who has worked for many Fortune 500 companies doing web, print and logo design for nearly thirty years.