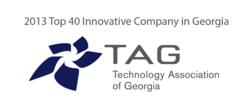 Atlanta, GA (PRWEB) March 12, 2013
The Technology Association of Georgia (TAG), the state's leading association dedicated to the promotion and economic advancement of Georgia's technology industry, today announced PrimeRevenue, Inc., the leading SaaS platform for global supply chain finance (SCF), as one of its Top 40 Innovative Technology Companies in Georgia. TAG will recognize this prestigious group at the 2013 Georgia Technology Summit (GTS) on March 20, 2013, at the Cobb Galleria Centre.
TAG'S Top 40 Awards recognize Georgia-based technology companies for their innovation, financial impact, and their efforts at spreading awareness of Georgia's technology initiatives throughout the U.S. and globally.
"The 2013 Top 40 finalists are an elite group of innovators who represent the very best of Georgia's Technology community," said Tino Mantella, president & CEO of TAG. "The 2013 Top 40 finalists are shining examples of what makes our State such a hotbed for technology and we applaud them for standing out as leaders in Georgia's technology community."
This year's Top 40 Companies were selected from among over 90 applications submitted by companies from across Georgia. Companies selected for the "Top 40" will be showcased in an exhibition at The 2013 Georgia Technology Summit.
"Our ninth year of the Top 40 was an overwhelming success, based on the number of truly innovative companies that participated in the competition," said Dennis Zakas, a partner and founder of Zakas & Leonard, LLP, Chair of Group Office Buys, LLC, and chairperson of the Top 40 Selection Committee. "The Top 40 winners demonstrate the depth and breadth of Georgia's technology community."
PrimeRevenue operates the largest supply chain finance programs in the world, helping multiple clients in North America, Asia Pacific and Europe achieve more than $100 million each in working capital improvement. With 38 Financial Institutions available to provide financing on the OpenSCi™ SCF platform, PrimeRevenue processes over $60 Billion in on-demand, low cost financing to 11,000 suppliers in 37 countries and in 17 currencies.
"PrimeRevenue has a tremendous amount of institutional knowledge on how to analyze spend, identify and quantify opportunities for cash flow gain as well as build and execute on the plans for realizing such benefit," said PJ Bain, PrimeRevenue CEO. "By combining this industry and process expertise with automated data analysis, aggregation and reporting tools within our SCiMap™ platform, PrimeRevenue has bridged the gap between the Treasury and Supply Chain departments towards attainment of common goals. We are honored that SCiMap™, a revolutionary working capital optimization tool on the PrimeRevenue OpenSCi™ platform was recognized as a leading technology solution that provides organizations with the necessary tool set for improving cash flows on an on-going basis even as organizational objectives change," concluded Bain.
The 2013 Georgia Technology Summit is expected to draw a crowd of more than 1,000 C-level executives, entrepreneurs, technology professionals and academia to celebrate and recognize Georgia's technology community. In addition to presentations from some of the top technology influencers in the nation, the newest member of the Technology Hall of Fame of Georgia will be inducted.
For more information about TAG and the Georgia Technology Summit and to register for the event, visit http://www.tagonline.org/georgia-technology-summit.php. Follow the conversation on Twitter through #TAGGTS.
About The Technology Association of Georgia (TAG)
The Technology Association of Georgia (TAG) is the leading technology industry association in the state, serving more than 18,500 members and hosting over 200 events each year. TAG serves as an umbrella organization for 32 industry societies, each of which provides rich content for TAG constituents. TAG's mission is to educate, promote, influence and unite Georgia's technology community to foster an innovative and connected marketplace that stimulates and enhances a tech-based economy. The association provides members with access to networking and educational programs; recognizes and promotes Georgia's technology leaders and companies; and advocates for legislative action that enhances the state's economic climate for technology. Additionally, the TAG Education Collaborative (TAG's charitable arm) focuses on helping science, technology, engineering and math (STEM) education initiatives thrive. For more information visit the TAG website at http://www.tagonline.org or TAG's community website at http://www.TAGthink.com. To learn about the TAG-Ed Collaborative visit Technology Association of Georgia.
Contact:
Tony Cooper
tony(at)tagonline(dot)org
(404) 920-2008
http://www.tagedonline.org/
About PrimeRevenue, Inc.
For Global 2000 organizations who view their supply chains as a strategic asset and are seeking to increase supply chain efficiency, PrimeRevenue is the leading provider of multi-bank Supply Chain Finance (SCF) technology and services. The PrimeRevenue OpenSCi™ SCF platform and working capital advisory services provide these organizations with the control and flexibility required to drive superior SCF results, reducing cost and capital risk throughout their supply chains and forging stronger supplier relationships. Headquartered in Atlanta, Georgia, USA, PrimeRevenue also has offices in London, Paris, Frankfurt and Prague in Europe, as well as in Melbourne, Australia, and Hong Kong SAR, and operates some of the largest SCF programs for customers around the globe. For more information, visit http://www.primerevenue.com
Contact:
Oana Leventi-Perez
PrimeRevenue, Inc.
(o)+1-404-665-3768
(c)+1-678-368-2583
oleventiperez(at)primerevenue(dot)com