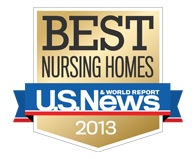 "Selecting a senior living community is a very personal decision, and with this annual report, U.S. News & World Report empowers consumers with the information they need to make that decision." Steve Proctor, CEO at Presbyterian Senior Living
(PRWEB) March 12, 2013
Three Presbyterian Senior Living continuing care retirement communities in Pennsylvania have been recognized as top nursing homes by U.S. News & World Report's fifth annual Best Nursing Homes. Presbyterian Village at Hollidaysburg, Westminster Village at Allentown and Westminster Woods at Huntingdon all received five-star overall ratings based on assessments in three categories – health inspections, level of nursing staffing and quality of care. Westminster Woods also received the U.S. News & World Report raking in 2010.
The Best Nursing Homes 2013 ratings highlight top nursing homes in each state and nearly 100 major metropolitan areas. The ratings cover more than 15,000 homes nationwide and aim to help families choose the right senior living community. U.S. News & World Report also published a series of articles and a step-by step video to guide users in choosing the right nursing home.
"Selecting a senior living community is a very personal decision, and with this annual report, U.S. News & World Report empowers consumers with the information they need to make that decision," said Stephen Proctor, CEO at Presbyterian Senior Living. "Each of our communities works very hard to deliver on our mission to provide enhanced quality of life for seniors at all levels of care, and this recognition underscores our commitment to continuously improving our communities and the service we provide."
Presbyterian Senior Living is a non-profit organization that provides senior care services at its nearly 30 communities across the mid-Atlantic. The communities offer various levels of specialized care such as independent living, personal care, skilled nursing, rehabilitation, adult day services and memory care for people with Alzheimer's disease or dementia. Presbyterian Senior Living is committed to helping its residents live healthier, more fulfilled lives, and began implementing the Masterpiece Living approach to successful aging across its communities in 2011.
"Fewer than one out of every five nursing homes got an overall rating of five stars," said Avery Comarow, U.S. News Health Rankings Editor. "All seniors deserve the best nursing care available, and these are homes that merit their consideration by demonstrating such high quality."
U.S. News & World Report evaluated data from Nursing Home Compare, run by the Centers for Medicare & Medicaid Services, and awarded the "Best Nursing Home" designation to homes that recently earned an overall rating of five stars, the agency's highest ranking. Each home is also rated separately on quality care, health-inspections record and level of nursing staff.
For more information about five star senior living in the mid-Atlantic, please visit http://www.presbyterianseniorliving.org.
About Presbyterian Senior Living
Presbyterian Senior Living is a not-for-profit organization, providing retirement and senior care services for more than 85 years. Headquartered in Dillsburg, Pennsylvania, Presbyterian Senior Living provides services to approximately 6,000 seniors in 29 locations in the mid-Atlantic region of Pennsylvania, Maryland, Ohio and Delaware. Presbyterian Senior Living fulfills its charitable purpose and mission by providing a full range of high-quality healthcare, housing, and other related community services directed primarily to people 55 and over. For more information, please visit http://www.presbyterianseniorliving.org.