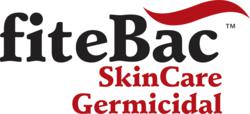 ...we introduced our hand gel to hundreds of people who recognized its value as a non-alcohol based hand sanitizer
Marietta, GA (PRWEB) March 12, 2013
fiteBac SkinCare, LLC, will make a repeat appearance at this year's Thomas P. Hinman Dental Meeting in Atlanta, Georgia, March 21-23. Representatives from the fiteBac team will be selling 1-, 3-, and 8-oz sizes of fiteBac Germicidal Hand Softening Gel to Hinman Meeting attendees. fiteBac Germicidal Hand Softening Gel is a revolutionary new hand sanitizer that does not dry out hands because it is alcohol- and water-free.
This is the second year in a row that fiteBac will be attending the Hinman Meeting. Last year, the fiteBac team sold hundreds of tubes and bottles of the fiteBac gel to eager Hinman attendees. Atlanta Dental, a dental supply company, also distributed fiteBac Germicidal Hand Softening Gel at the meeting last year. Atlanta Dental will reprise that role this year.
"We are very excited to showcase fiteBac Germicidal Hand Softening Gel at the Hinman Meeting this month," said Dr. Kirk Kimmerling Marietta cosmetic dentist, CEO and co-founder of fiteBac SkinCare. "We met so many great people at last year's meeting, and we introduced our hand gel to hundreds of people who recognized its value as a non-alcohol based hand sanitizer. We are excited to introduce fiteBac to even more people this year. After we tackle the dental market, we look forward to the veterinarians. We have many veterinarian clinics around the fiteBac corporate office using the product, such as the Marietta Vet Clinic, Julian Peckich DVM on Largent Way, Marietta, GA."
Dr. Kimmerling is looking forward to attending the Hinman Meeting on two counts—one for fiteBac, and the other for his Marietta dental practice. Dr. Kimmerling's office is one of the premier dental offices in the state of Georgia, drawing a patient base from all over the metro Atlanta area. Drs. Kimmerling offers family dentistry routine cleanings, cosmetic dentistry services, dental veneers, dental implants, teeth whitening, and a host of other dental services, and are always thrilled to welcome new patients.
The Hinman Meeting will be held at the Georgia World Congress Center in Atlanta from Thursday, March 21, through Saturday, March 23.
Kirk Kimmerling, DDS is a Marietta cosmetic dentist and emergency dentist who are paving the way for the future of dentistry. The office is technologically sophisticated in not only equipment and procedures, but also developing dental materials via Kimmerling Holdings Group, LLC and fiteBac SkinCare, LLC, Dr. Kimmerling's biotechnology firms. The office maintains 13 operatories, each of which is equipped with a display monitor on which digital x-rays and intra-oral pictures can be examined, and patient education videos can be viewed. The office also employs highly advanced technologies, including: (1) Logicon, a program that can digitally measure the extent of tooth decay, which allows detection of 20% more cavities and helps prevent misdiagnosis; (2) "Collimators," a conduction of x-ray tube heads that decrease radiation exposure to the patients and staff by 5-fold; and (3) iTero, an advanced restoration impression system and digital scanner that produces more accurate restorations than traditional methods. The overall well-being of each patient can also be improved by adding a DNA salivary test, which allows the office professionals to better determine a patient's specific risk of periodontal disease as well as certain types of oral cancer. The office is the first to use fiteBac SkinCare Germicidal Hand Softening Gel, an advanced hand sanitizer without the harshness to skin from traditional alcohol-based hand sanitizers. Drs. Kimmerling and Aguilera invite new patients to meet their exceptional staff and experience and benefit from state of the art dental care. The office offers a broad range of services from teeth cleaning, teeth whitening to veneers and Marietta dental implants and Marietta root canals.