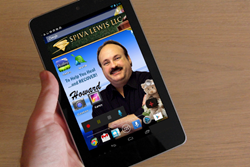 Mobile apps and Google Nexus tablets have revolutionized our ability to interact with our clients and involve them in the outcome of their case. These touch technologies help us put the 'personal touch' in personal injury law.
Savannah, Georgia (PRWEB) March 12, 2013
Savannah-based law firm, Spiva Lewis LLC, is leading the way to the future of personal injury law by empowering their clients with an Accident Safety Mobile App and Google Nexus Tablet technology that lets them directly participate in their case and have input and control in the outcome of their recovery.
"Often, when people are injured and have legal representation, the only communication tool they have is a phone to leave a voice message for their attorney," explained firm-founder Attorney Howard Spiva. "By providing Google Nexus tablets that are pre-loaded with helpful, customized apps, we can enhance our service and maximize the results for our clients".
The Google Nexus Tablet, which is loaned out to Spiva's seriously injured and hospitalized clients, is equipped with various features that will keep client and lawyer in constant contact throughout the process of the case and securely gather evidence that will tell the clients story in a way that was never before possible.
"No one can tell your story better than you," explained Spiva, "The more evidence we have that proves your harms and losses and how the injury has changed your life, the better we can paint a picture for the insurance company, the defense lawyer and ultimately to a jury."
From day one, specialized applications begin capturing interviews with medical providers, nurses, co-workers, friends and family to document client's post-injury life and tell their story in the most favorable light.
At the touch of a button, the firm and their client can quickly and securely share information via existing Google programs like Gmail, Google Docs, chat features and Google calendaring. Additionally, the firm's customized applications are programmed to document the client's medical recovery and illustrate daily challenges and struggles.
The tablet also contains apps that will give a holistic approach to healing, with hopes of reducing stress and assisting the healing process by includes reading materials, soothing soundtracks and even entertaining games to pass the time.
In using innovative Google technology, the firm believes they are raising the bar for all attorneys. It gives clients unprecedented access to the handling of their client case and gives the lawyer an all-access pass to previously untapped evidence.
"Mobile apps and Nexus tablets have revolutionized our ability to interact with our clients and involve them in the outcome of their case. Google-powered touch tablets help us put the 'personal touch' in personal injury law and propels our client-first approach into the 21st century," concluded Spiva.
About Spiva Lewis LLC
Spiva Lewis LLC is a Georgia Personal Injury Law Firm, with offices in Savannah, GA. For over 25 years the attorneys at Spiva Lewis LLC have been dedicated to handling serious injury and complex damage cases, including catastrophic personal injury, traumatic brain injury and claims of wrongful death. We also handle many claims for children. Spiva Lewis LLC represents no insurance companies and is dedicated solely to the representation of injured and deceased persons. For more information on Spiva Lewis LLC and its use of innovative technologies contact 800-644-2001. Download the firm's mobile app at http://spivalawapp.com or visit the firm's website at http://spivalaw.com.