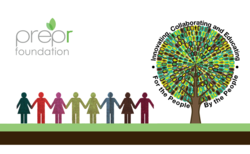 With enough of us, around the world, we'll not just send a strong message opposing the privatization of knowledge — we'll make it a thing of the past. Will you join us?

Aaron Swartz
Pasadena, CA (PRWEB) March 11, 2013
Prepr Foundation, a non-profit with a mission to transform online education announces a new initiative today – Open Prepr. This project will be a free online open education network created by the people, for the people. One of the co-founders, Salar Chagpar explains "Open Prepr will be the social learning tool of the future – think Facebook for education."
Open Prepr will challenge students to work together to tackle real-world problems. Building upon the free content offered by MIT, Harvard, Stanford, and others, the Prepr Platform will create a new learning ecosystem. This environment will encourage students to exchange ideas and discuss topics outside of individual courses. Casual interaction is a crucial element of university education, but one open education has not yet addressed. "Learning through social innovation helps students to develop the skills employers seek in new graduates" says Chagpar, and that is key for any new education initiative.
The "by the people, for the people" approach is powerful, generating community buy in from initiation to execution. To develop the platform Prepr is asking for support through the crowdfunding campaign Let's Open Education Together, which launches March 11th on Indiegogo. By donating contributors will get perks such as early access to the platform or founding members status. In preparation for the launch Chagpar says they have begun reaching out to the academic community with positive results. He urges any educators or investors who want to contribute to contact Prepr and join the open education movement.
Let's open education together, join Prepr.
About Prepr
Prepr Foundation is making education more accessible and social by creating the first online open education and innovation community – Open Prepr. By integrating innovation and collaboration into the learning environment we will help students develop key skills while absorbing new knowledge. This project is "by the people, for the people" and will be partially funded through the crowdfunding site Indiegogo. Prepr launched in Boston as the start-up sponsor of the 2011 MIT Techfair. To join the movement or learn more, visit http://prepr.org or follow us on Twitter at Preprme.