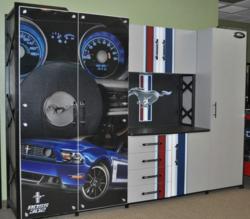 Orange, CA (PRWEB) March 13, 2013
Tailored Living – a home improvement company featuring the PremierGarage® brand of garage organization products – announced a distribution agreement with Arizona based Iconic Brand Collection (IBC) to launch and distribute an extensive line of customizable Ford® Garage products that include cabinetry and flooring. The product line is geared towards creating a safer, more functional space that reflects Ford's passion for the driving experience as well as its commitment to quality. The iconic Ford Garage product collection will help transform and personalize any garage space with solutions that not only support the interests of Ford car and truck enthusiasts, but enhance their way of life.
Through this licensing agreement with Iconic Brand Collection, Tailored Living is now an authorized distributor of Ford Garage products. Ford logos, nameplates and images can now be used on a wide variety of storage and organizational solutions to further help customers create their ideal garage space. Whether you want to create a sanctuary to store your classic Ford, or a jaw-dropping Mustang® themed man cave, Tailored Living has design specialists with extensive experience that can make it happen.
Made in the USA, Ford Garage products can enhance any garage space from a small, one-car garage, to a 20+ car museum. More importantly, they can help Ford enthusiasts create dream garages for their vehicles. Designed to accommodate the needs of a diverse range of Ford customers, from devoted Mustang® owners, to Ford truck fanatics, each product category was carefully selected to reflect Ford's commitment to their products on the road, and in the home.
"We are thrilled to partner with IBC in order to offer Ford's globally influential brand and deliver the level of customer service and customization that dedicated Ford customers expect," said Dan Tafoya, Vice President of Tailored Living. "Our design experts know the garage inside and out. They understand how important it is to create an organized, safe and rewarding space for your vehicle and possessions. I believe our passion for our work, and the Ford brand itself, will allow each customer to create a garage space that they are proud to use and proud to own."
Brad Randolph of Iconic Brand Collection stated, "Since we understand Ford's unwavering commitment to providing their customers with a rewarding experience behind the wheel, we could not think of a better home for Ford branded garage products than Tailored Living. They understand and share our commitment to the Ford brand and we are looking forward to a great partnership!"
Product Categories:
Available now at any Tailored Living location across the U.S. and Canada, the new Ford Garage collection features over 40 customizable garage enhancement solutions. They include: case goods, modular storage, cabinetry, shelving, work benches, lockers, display cases, mobile tool storage boxes, slat wall and hook systems, desks, fold up counter tops, work stations, car care supply caddies, bike racks, power strips, hose and cord reels, overhead shelving, storage bins, totes, outlet plates, door guards, in-cabinet refrigerators, lighting, in-cabinet integrated sound/video systems, and accessories including shelf liners and drawer pulls. Learn more at http://www.myfordgarage.com.
Designing Your Ford Garage:
Tailored Living uses a proprietary interactive design program called D'Vinci to make a garage space come alive. During the free in-home consultation, D'Vinci allows a Tailored Living organizational specialist to complete project designs in minutes, right in front of the customer. In addition to stunning 3D visuals, the program produces an accurate parts list for every project. The combination of vivid graphics and virtual walkthrough capabilities creates a powerful presentation tool that will help every customer clearly visualize their potential Ford dream garage.