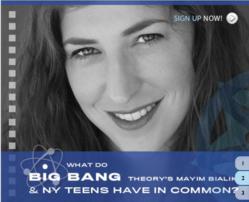 New York, NY (PRWEB) March 12, 2013
Mayim Bialik, known for her role as Amy Farrah Fowler on TV's "The Big Bang Theory," will join New York teens Monday, March 11th, at 7:00 p.m., for a sold-out screening of the award-winning film "Israel Inside: How a Small Nation Makes a Big Difference." The film is part of the Step Up For Israel campaign, a new Israel education program created to reconnect people to Israel and provide fresh insight into reasons behind the country's successes. As part of the event, Bialik will speak about her personal link to Israel, as well as her experience of being a Jewish Hollywood actress.
"Israel is the country that I most identify with as mine, and I want to share that feeling and sense of belonging with others," said Bialik. "Step Up For Israel enables me to do this, as it provides people with a connection to Israel and the Jewish People, and offers various opportunities to get involved and make a difference."
The program, set to take place at Central Synagogue, 123 East 55th Street, New York City, is in partnership with The Center for Youth Philanthropy and Leadership of the UJA-Federation of New York. Co-chairs include Wolfgang Ballinger, Ben Gargano, Robbie Jacobs, Lucy Price and Josh Rowan.
The event is being co-sponsored by 17 Jewish organizations and youth groups, including: Aleph Beta Academy, Alexander Muss High School in Israel, BBYO, Central Synagogue, Congregation Rodeph Shalom, Foundation for Jewish Camp, JerusalemOnlineU.com, Jewish Education Project, Jewish Student Connection, The Jewish Week – Write On For Israel – NY, JNF, NFTY, New York NCSY, Project Jump, UJA-Federation of New York, USY, and Young Judaea.
"Our goal is to educate teens, parents and the greater community about Israel," said Andrea Gottlieb, Executive Director of Step Up For Israel. "Israel has an amazing story to tell which is not seen in the headlines. It is critically important that students feel a pride and connection to their heritage and homeland. This event provides a way for peers of all backgrounds to join together in solidarity for Israel."
Teens that missed the opportunity to sign up for this event are invited to participate in a JerusalemOnlineU.com webinar featuring Harvard Professor Alan Dershowitz. The webinar, in partnership with Write-On For Israel, is part two of a three-part series in Israel advocacy training. It will take place on Sunday, March 17 at 11:00 AM EST. To register, visit http://www.stepupforisrael.com/write-on-for-israel/.
Step Up For Israel, an initiative of JerusalemOnlineU.com, is an international grassroots campaign that connects individuals and communities to Israel by providing a strong foundation in Israel education and activist opportunities. Campaign Chairs are Professor Alan Dershowitz and Ambassador Dore Gold.
"Israel Inside," hosted by former Harvard lecturer Dr. Tal Ben-Shahar, is one component of Step Up For Israel. The film examines the core character strengths that have enabled Israelis to overcome challenges and turn a barren desert into a flourishing and productive society.
For media inquiries and more information please contact: Media(at)JerusalemOnlineU(dot)com.