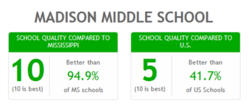 ...the NAEP results for any state, when compared against the state-specific NCLB scores for that state, clearly reveal the widespread differences in the difficulty of the NCLB tests from state-to-state.
Worcester, Mass. (PRWEB) March 12, 2013
Location, Inc.'s Dr. Andrew Schiller, with legal help from patent attorney Sean Detweiler of Morse, Barnes-Brown & Pendleton, PC, has developed and successfully patented a system to directly compare the quality of public schools in different states.
Previously, a direct comparison of school performance across state lines was not possible, due to the wide variations in content and difficulty of the No Child Left Behind (NCLB) tests, which are different in every state.
Though the federal government requires standardized testing and passes down guidelines for the creation of a standardized testing mechanism, the states themselves are left to develop the actual NCLB tests. The result is wide variations in the quality of the tests from state to state, making any comparison of the quality of individual schools in different states impossible, a fact that is often lost on home buyers and businesses to their detriment.
"The closest thing we have to a truly standardized national test that is the same in every state is the National Assessment (NAEP)" Schiller says, which is one test given to a random sampling of students from each state every few years and is used to compare the states overall. But not enough students take the NAEP in any one district or school to use it for directly comparing individual school achievement. However, the NAEP results for any state, when compared against the state-specific NCLB scores for that state, clearly reveal the widespread differences in the difficulty of the NCLB tests from state-to-state.
Schiller developed an algorithm that quantifies and compares how students in each state score on the state-NCLB, and how students in the same state score on the NAEP. The difference, which is unique to each state, is used to align each school and district test scores across the nation, and then they are ranked to bring all to a nationally comparable rating.
The patented system produces a nationally-comparable index score which rates each public school, school district and neighborhood in every state.
Schiller's company, Location, Inc., is the sole supplier of these nationally comparable data. "We've had substantial interest from real estate investment trusts, commercial property developers, mortgage and financial companies, websites that serve home buyers, and other businesses that factor school quality into their site selection, relocation, or capital investment decisions. We are already actively licensing the data," said Schiller.
The company also offers a subscription to view the data school-by-school on NeighborhoodScout.com, a neighborhood research tool for parents and homebuyers. The site also allows homebuyers to search for locations based on their criteria, including an option for finding the neighborhoods with the best public schools in any area of the US.
School test results that can be compared accurately across the nation are especially important, not just for the people moving long distances to unfamiliar territory or businesses evaluating opportunities in far-flung areas, but for the people who work in the numerous metropolitan areas that spread into two or more states like New York, Chicago, Washington, DC, Boston, Philadelphia, and many others. Tens of millions of residents in these areas have the option to live in one state but work in another. But none of the MLS listing or school ratings websites available today provide a meaningful comparison of how individual schools in adjacent states compare.
"The user is left in confusion because all these sites provide ratings, but none are comparable, even if just a few miles away when crossing any state line. We want to provide people with truly accurate information about the varying quality of education across the country," Schiller says. "We hope it helps people and businesses make smarter decisions, smarter investments, and perhaps bring awareness that ratings which rely only on state-specific NCLB tests cannot be used to compare the academic quality of schools in different states, even adjacent states. Our objective, test-based comparative school data offer the opportunity to better inform the public and more accurately guide business and investment decisions."
The granted patent is US Patent No. 837675. A copy of the patent claims and more information can be found at: http://patft.uspto.gov/netacgi/nph-Parser?Sect1=PTO1&Sect2=HITOFF&d=PALL&p=1&u=%2Fnetahtml%2FPTO%2Fsrchnum.htm&r=1&f=G&l=50&s1=8376755.PN.&OS=PN/8376755&RS=PN/8376755
About Location, Inc.
Location, Inc. is a geographic research, analysis and data mining company that has served more than 20 million people and businesses with its proprietary tools and analytics since its founding in 2002. The company is led by a team of pioneering Ph.Ds, focused on location-based tools to support high-risk, high-cost decisions. The company's products and services include NeighborhoodScout, which provides consumers with crime, school and real estate reports for any address in the U.S., and SecurityGauge™, a crime risk reporting service for businesses that offers highly targeted security analysis and assessment for any address in the country. Additional information can be found online at http://www.LocationInc.com.