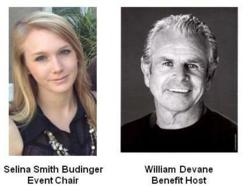 Selina is determined to give back to the 300,000 children under the age of 15 that live with epilepsy in the United States.
Indio, CA (PRWEB) March 12, 2013
Palm Desert High School senior, Selina Smith Budinger, has early childhood memories laced with doctor appointments and medications to treat her epilepsy. Seizure free since she was 13, Selina is determined to give back to help the 300,000 children under the age of 15 that live with epilepsy throughout the United States. She is starting locally by organizing Raising Hope for Epilepsy, a charity polo benefit March 17, 2013 at the Empire Polo Field in Indio.
The local community and celebrities will come out to support Selina and the cause including William Devane (Revenge, the Dark Knight Rises), actor and Benefit Host, Zachery Alexander Rice (Power Up) and R.J. Mitte (Breaking Bad) amongst others.
"Getting involved and supporting Selina's efforts, people not only help hundreds of children with epilepsy, locally, and thousands throughout Southern California, but they also inspire other teenagers to step-up and make their communities better," said Susan Pietsch-Escueta, Executive Director of the Epilepsy Foundation of Greater Los Angeles.
Funds raised from the charity polo benefit will help support training in local schools about 'Seizure Recognition and First Aid' to promote understanding and combat bullying, advocacy to improve the safety of local children with epilepsy, the launch of an epilepsy community action group in the Coachella Valley, and support epilepsy research. Some funds will also enable Selina to attend the Epilepsy Public Policy Institute in Washington D.C., from April 21-23, where she will represent all children with epilepsy in Riverside County and have an opportunity to visit and educate elected representatives about epilepsy and advocate for more epilepsy research.
What: Raising Hope for Epilepsy – A Charity Polo Event
When: Sunday, March 17, 2013 1:30 to 4:30 pm
Where: Empire Polo Grounds, Indio, CA
Information: Call 800.564.0445 or visit http://www.POLOFORHOPE.org
ABOUT EPILEPSY
Without warning, seizures can happen to anyone at any age. When a person has two or more unprovoked seizures, they have epilepsy. Seizures do not all look the same and, according to the International League Against Epilepsy, there are currently more than 25 different recognized epilepsy syndromes affecting almost 3 million people in the U.S. and about 65 million people worldwide. Someone is diagnosed with epilepsy every four minutes and, this year alone, almost 200,000 people in our country will be diagnosed. To date, there are no known cures.
ABOUT THE EPILEPSY FOUNDATIONS IN SOUTHERN CALIFORNIA
The EPILEPSY FOUNDATIONS in Southern California (the Epilepsy Foundation of Greater Los Angeles and the Epilepsy Foundation of San Diego County) are 501(c)3 charitable organizations leading the fight to cure epilepsy and improve the lives of those with seizures through care, advocacy, research and education. With the public's involvement and support we can fund research for cures and provide epilepsy education to combat ignorance and prevent bullying – and thereby help raise hope for children with epilepsy.