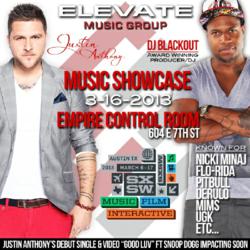 When I first heard Justin, I thought Jason Mraz, John Mayer, but with an Island twist.
Ft. Lauderdale, FL (PRWEB) March 12, 2013
Over the past five years, Winston "DJ Blackout" Thomas has produced hits for some of the biggest names in music: Nicki Minaj, Jason Derulo, Mims and Flo-Rida to name a few.
On Saturday March 16th during South by Southwest (SXSW) in Austin, which is arguably the largest music conference in the world, DJ Blackout will introduce the world to his latest discovery, Elevate Music group's debut artist, Justin Anthony. "He's what's missing in music," quips Blackout, who has mentored and cultivated Justin for the past year. "People are going to pay attention."
At first glance Justin Anthony looks like your run of the mill singer. Good looking, tall and thin. The second he opens his mouth everything changes. His accent is undeniably Jamaican yet, the obvious, he is Caucasian. "His sound is a fusion," says DJ Blackout "we call it Island Pop."
Early in the artist development process, when Blackout knew that Justin was serious, he introduced the project to his friend, businessman Louis Massaro. The two formed Elevate Music group, with Justin being the first release.
"When I first heard Justin, I thought Jason Mraz, John Mayer, but with an Island twist," adds Massaro who is the Executive Producer of the project and CEO of Elevate Music Group. "He's a star."
Justin Anthony's first single and video, "Good Luv" features Snoop Dogg and is slated to impact shortly after SXSW.
Check out Justin Anthony's showcase Saturday March 16th at Empire Control Room 606 East 7th Street Austin at 5pm as part of the Fighter Interactive/Heard Entertainment SXSW Showcase.
Snoop is not scheduled to perform, but it is SXSW so you never know.
There will be a meet and greet and media opportunities to interview Justin and DJ Blackout after the showcase.
For more info on Justin Anthony please visit http://www.JustinAnthonyMusic.com.