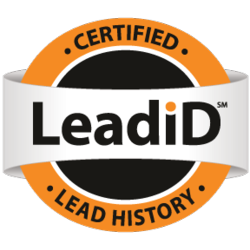 Philadelphia, PA and Paramus, NJ (PRWEB) March 12, 2013
LeadiD, the first and only independent, neutral platform that collects definitive information about the origin and history of an enrollment inquiry, today announced that CUnet has partnered with and implemented LeadiD as the standard in inquiry authentication and trusted transactions. LeadiD's inquiry authentication provides CUnet an entirely new way to optimize inquiry generation and distribution. The LeadiD platform allows the elimination of non-authentic, non-compliant, recycled, duplicate, and other undesirable inquiries before they reach a client school's enrollment funnel. LeadiD also provides school marketing partners actionable inquiry performance and quality metrics based on previously unavailable data.
Today's higher education marketing landscape is one of increased marketing costs and compliance requirements. In parallel with increased demand for real-time predictions on how a given inquiry will perform, schools and their marketing partners also need to ensure that prospective students experience a compliant marketing funnel. LeadiD witnesses the inquiry event firsthand, and factually documents the inquiry's origin and history. This enables precise prediction of inquiry performance in addition to powering compliance applications.
"At CUnet, we're committed to delivering online marketing solutions based on in-depth strategies that support our clients' enrollment goals while making sure to maintain compliance standards for every inquiry," said Shadee Barkan, Managing Director, CUnet. "LeadiD provides CUnet school clients confidence and real-time clarity that the inquiries they are receiving from CUnet are authentic and compliant. And the LeadiD platform accomplishes this without any party needing to divulge confidential or proprietary information, factors that are important in maintaining trusted partnerships."
"Market leader CUnet is setting the gold standard in higher education providers by working shoulder to shoulder with their client schools on high performance marketing solutions that help meet and exceed enrollment goals, while also supporting compliance standards," said Ross Shanken, founder and CEO of LeadiD. "CUnet's implementation of the LeadiD platform is a significant step in broadening support for the only neutral, not-intrusive standard that enables a trusted handshake on every inquiry transaction."
How It Works
LeadiD embeds trust into every inquiry transaction – by knowing factually what happened at the consumer event, and how the consumer's data moved through the inquiry ecosystem, the seller and buyer of the inquiry information ensure that inquiries only change hands when appropriate.
While third party technology companies usually attempt to track down the unscrupulous players, LeadiD simply allows a school to ensure that inquiries resulting from unscrupulous players' activities don't get into its marketing funnel - saving tremendous resources and providing a powerful ROI. LeadiD's technology platform derives and synthesizes data that is useful to both schools and the marketing partners that serve them. More than 150 firms are actively engaged with LeadiD, confirming market demand for a trusted platform and unified willingness to align with LeadiD as the singular neutral standard.
About LeadiD
Founded in January 2011 by Ross Shanken, LeadiD is the only independent, neutral, open technology platform, which tracks the origin and history of every lead event that utilizes the LeadiD system. No supplier-proprietary data is exposed, but rather, LeadiD allows Lead Sellers and Lead Buyers to make real-time decisions based upon definitive origin and history flags that are predetermined. LeadiD fosters an environment of trust in the transaction, one where both Lead Sellers and Lead Buyers alike derive top-line value. With unmatched data, LeadiD is the industry standard for authenticating lead origin and history and the authentication platform of choice for firms of all sizes. For more information, visit LeadiD.com.
About CUnet
For over nine years, CUnet's enrollment marketing experts have helped colleges and universities to reach, recruit and enroll the best students for their programs. With the industry's leading technology platform, a comprehensive set of online marketing services, and a network of targeted media providers, CUnet delivers qualified inquiries to meet enrollment and retention goals. CUnet's recruitment marketing services are supported by a network of proprietary websites, including their flagship site, CollegeInfo.com, and the CollegeQuest.com student advisor service. CUnet is dedicated to providing the highest standards of transparency and compliance while promoting ethical marketing practices in postsecondary education. Headquartered in Paramus, NJ, CUnet is a subsidiary of Nelnet, a leader in education planning and financing for more than 30 years. For more information, visit http://www.cunet.com
###
Media Contact:
Natalie Stopko
Director of Marketing
marketing(at)LeadiD(dot)com