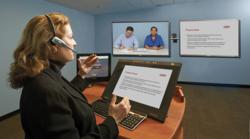 "We are seeing an increasing demand for virtual leadership development programs," according to Ray Carvey, executive vice president of Corporate Learning and International at Harvard Business Publishing. "Getting large groups of leaders together in person
Boston, MA (PRWEB) March 12, 2013
The challenge of leadership in globally distributed organizations and the deficit of emerging leaders are two of the many factors leading global businesses to explore alternative approaches to leadership development. New technologies have opened to door to creative, cost-effective, and more scalable ways to train leaders worldwide.
"We are seeing an increasing demand for virtual leadership development programs," according to Ray Carvey, executive vice president of Corporate Learning and International at Harvard Business Publishing. "Getting large groups of leaders together in person at one time has become a logistical and financial challenge for many organizations, yet the need to develop leaders has never been greater."
Harvard Business Publishing sensed the urgency felt by global businesses to find alternative ways to develop key personnel for future leadership positions early on. Seeing the immediate need to get in front of this growing trend, the group developed Leadership Direct -- a cohort-based, virtual blended leadership development program that helps senior-level and high-potential leaders develop and refine their general management capabilities. "The response was immediate," says Carvey.
Industry leaders such as Ayala Corporation, Fluor, Goodyear North American Tire, HCL Technologies, Humana, and Wipro are just a small sample of leading corporations that have benefitted from this innovative leadership initiative.
"We are bringing leadership development to where the learners are," said Josh Brand, Sr. Director of Global Delivery, Harvard Business Publishing. "Our clients are able to customize learning modules that help build capabilities in critical areas such as strategy, innovation, customer orientation, business acumen, and other critically important topics." In the past year alone 2,000 leaders from 70 countries on 6 continents have participated in the programs.
"We're called on to be prepared for the challenges of a rapidly changing world," said David Seaton, Chairman and CEO of Fluor. "Our program with Harvard Business Publishing has helped ready us for emerging markets and with adjusting our strategies, being agile and flexible, serving clients more effectively, and thinking and acting more globally."
Central to Leadership Direct's approach are live sessions with Harvard Business School faculty and Harvard Business Publishing moderators using today's best-in-class virtual classroom technology. Cohorts of learners meet in virtual, real-time settings that bridge geographic boundaries and time zones. "It has been an amazing experience to interact with and help leaders all over the world," said Harvard Business School Professor Ranjay Gulati.
According to Carvey, "We will continue to invest in this offering and look for new ways to enhance our programs. Our rapid growth is just one of many indicators that virtual development programs are an integral part of the evolving global leadership landscape."
For more about Leadership Direct see companion release: "Harvard Business Publishing Corporate Learning Delivers New Functionality in New Version of Leadership Direct or visit http://www.harvardbusiness.org/leadership-direct.
About Harvard Business Publishing
Harvard Business Publishing Corporate Learning partners with clients to create world-class leadership development solutions for managers at all levels. We leverage the management insight, thought leadership, and expertise of Harvard Business School faculty and authors from Harvard Business Review to create tailored leadership development solutions. With more than 20 years of practical experience, our innovative, technology-enabled solutions drive meaningful and lasting business results. Corporate Learning is a market group within Harvard Business Publishing. For more information, visit http://www.harvardbusiness.org. Follow us on Twitter https://twitter.com/HBPCorpLearning and connect with other talent development leaders on LinkedIn through the Harvard Business Publishing Corporate Learning Group.