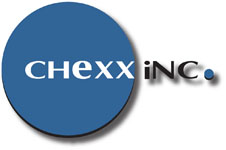 Chexx Inc.'s international payout solutions are an easy way to simplify the payout process, saving time and money in a climate where both are in high demand
(PRWEB) March 12, 2013
Chexx Inc., a company that specializes in sending high volumes of incentive and survey payments to beneficiaries around the world, is in attendance at the PMRG Annual Conference, taking place March 10 – 12, 2013 at the Gaylord National Hotel in National Harbor, Maryland. The year's conference, entitled, 'evolve and thrive', will focus on the new role of market research in a rapidly changing environment. As a high profile international payout provider to the market research industry, Chexx Inc. will be on hand to provide attendees with information on the latest technological innovations in international payouts, along with valuable insight into payment culture in markets around the globe.
"The annual conference is always a great place to meet with existing clients and to make new contacts," says Peter Sampson, VP of Corporate Development for Chexx Inc., "Not only are our outbound incentive payment services ideal for medical market research companies that need to pay panelists around the world by international cheque, electronic payment or prepaid card, our newest product offering, QuickDraw, takes the entire process a step further by allowing international patients to decide how and when they will be paid. The industry is experiencing a shift right now as companies downsize, streamline, and hone procedures, looking for ways to optimize performance – Chexx Inc.'s international payout solutions are an easy way to simplify the payout process, saving time and money in a climate where both are in high demand."
PMRG is a community where healthcare marketing researchers and suppliers can come together to learn and thrive. It aims to provide all members with access to cutting-edge information that supports professional development. It fosters the leadership skills necessary to translate functional excellence into pivotal roles in business decision-making and Initiate dialogues that provide networking opportunities and unstructured learning.
The 2013 Annual National Conference (ANC) will focus on the intrinsic value that an evolved healthcare marketing researcher must bring to today's global brands and organization – value as a forward-thinking consultant, who not only provides the insight, but the foresight to make those "now what?" recommendations and to thrive in any challenging environment. Attendees will walk away from the 2013 PMRG ANC with a more complete understanding of workplace dynamics, revolutionary techniques and how they can add value and creativity to their positions and organizations.  Attendees will not only learn how to evolve in today's global healthcare world, but to thrive in it.
About Chexx Inc.:
With full service offices in Europe and North America, Chexx Inc. serves the payment disbursement needs of clinical trial companies, market research companies, international payroll, sales organizations and affiliate marketing networks around the world. For over 17 years they have specialized in providing timely, convenient and cost-effective payouts with excellent results. Chexx Inc. maintains a large network of regional banks to provide payment coverage in over 200 countries. Considerable resources are focused on technical integration and relationship management with each banking partner, resulting in stable global coverage and built in redundancy in key regions.