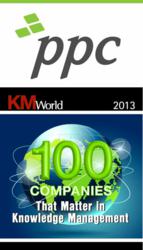 We continue to focus on knowledge management thought leadership and are gratified to be recognized in this area. - Zach Wahl, Vice President of Strategic Solutions at PPC
McLean, Virginia (PRWEB) March 13, 2013
PPC has been chosen from over a thousand KM practitioners, theorists, analysts, vendors, their customers and colleagues. KMWorld (http://www.kmworld.com) is the leading information provider serving the Knowledge Management systems market and covers the latest in Content, Document and Knowledge Management. KMWorld is a publishing unit of Information Today, Inc., http://www.infotoday.com. "Criteria for inclusion varies, but all companies have things in common. Each has either helped to create a market, redefine one or enhance one, and they all share two things—the velocity of innovation and the agility to serve their customers," says Hugh McKellar, KMWorld Editor-in-Chief.
For over a quarter century, PPC has worked with public and private organizations to strategize, design, and implement knowledge management solutions that connect people with the information they need. We coined the phrase "Practical Knowledge Management" to express our focus on achievable and measurable efforts that offer true business value. PPC defines Knowledge Management as the concepts, practices, and technologies used within and between organizations to capture, manage, and distribute information and leverage knowledge. "On behalf of PPC, I'm proud to be recognized by KMWorld for the second year in a row. We continue to focus on knowledge management thought leadership and are gratified to be recognized in this area," stated Zach Wahl, Vice President of Strategic Solutions at PPC.
PPC's practical Knowledge Management Solutions focus on addressing core business needs and achieving a return on investment through the integration of business-focused Knowledge Management and the underlying technologies that enable people to share, connect, collaborate, and access the information they need to be more effective in their jobs. Our solutions are focused on business value for our clients. "Every day, our 350+ employees dedicate their technical talent and experience to our clients and their mission. I am very proud of this award and the work we do - always committing to excellence," stated Harry Thornsvard, CEO at PPC.
About KMWorld
The leading information provider serving the Knowledge, Document and Content Management systems market, KMWorld informs more than 45,000 subscribers about the components and processes - and subsequent success stories -- that together offer solutions for improving business performance. KMWorld is a publishing unit of Information Today, Inc.
About PPC
PPC (http://www.PPC.com) is a leading mid-sized provider and innovator of IT Technology and Management Consulting services, dedicated to providing fully integrated solutions to public and private organizations. PPC has the experience and resources of a large business along with the focus, agility and innovation of a small business. As an independent consulting firm, we offer impartial, in-depth discovery and analysis resulting in unbiased solutions that emphasize increased quality, efficiency and effectiveness for our clients. Find out more about PPC at http://www.ppc.com, or contact Tim Atkinson, Director of Sales and Business Development, at 703-748-7270.