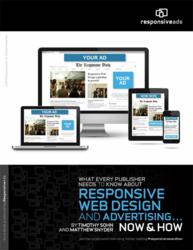 Local advertisers' eyes glaze over when they hear the word HTML5, but they sparkle when they see the ad STRETCH from desktop to mobile.
NEW YORK, NY (PRWEB) March 12, 2013
In the heat of SXSW 2013, ResponsiveAds, Inc., the publishing and advertising industries' first Responsive Web Advertising-focused company, is pleased to today announce the release of its first e-book, "What Every Publisher Needs to Know About Responsive Web Design and Advertising … Now & How."
Mashable has declared 2013 as the Year of Responsive Design, and we couldn't agree more. However, when publishers consider making the move to Responsive Web Design, it's critical that they figure out their monetization – Responsive Advertising – strategy from the start.
"There is a plethora of information out there about mobile-first and Responsive Web Design, but information is severely lacking regarding monetization or advertising approaches. As publishers embrace responsive, we want it to be clear that they can absolutely earn more than they are today with the right integration of mobile. We see this as an opportunity for them during a refresh or launch of their new web and interactive business strategy to better build their businesses. We wanted to make our learnings available to the community and will continue to so," said Matthew Snyder, CEO, ResponsiveAds.
"What Every Publisher Needs to Know About Responsive Web Design and Advertising … Now & How," written by Snyder and Tim Sohn, media consultant, provides a comprehensive look at what implementation of Responsive Web Design and HTML5 Responsive Advertising means for the publisher – from investment to ad servers to workflow, and much more. The e-book includes specific information for each type of publisher with unique ad server scenarios, as well as Responsive Advertising solutions – from bundled creatives (SWAP™ configurations) to Responsive Creatives (STRETCH™ configurations).
Aidan Foster, a contributor to the e-book and owner of Canada-based Foster Interactive, said responsive design makes sense for most businesses:
"A website is either mobile-friendly or obsolete. Native apps, dedicated mobile sites and responsive design are all options for supporting mobile. For the vast majority of businesses, responsive design offers the best balance between platform support and cost by allowing a single website to support all devices and desktop browsers."
Justin Avery, an Australia-based web developer and technical consultant, also contributed to the e-book. He interviews Responsive Web design experts.
"I was fortunate enough to interview 16 leading responsive design professionals as part of Responsive Design Weekly and find out what they want to see in 2013," he said.
ResponsiveAds has been working with long-tail publishers and advertisers in private beta mode. Through this collaboration, we have found that selling mobile in a bundle has an improved sell-through rate. In addition, basic leaderboard and rectangle ad sizes can now be viewed across all screens with the Linear and Adhesion Snap ad formats. These features allow publishers to enjoy the benefits of one ad tag for all screens.
Patrick Zeinert, interactive designer at Bryan Broadcasting, said:
"We have found the Adhesion Snap to be highly effective, and overall we are seeing responsive enable close to four times the overall click-through what we had compared to just ads on desktop sites."
The Times-Herald, a five-day-a-week newspaper in Newnan, Ga., also recently made the move to Responsive Web Design. It launched with more than a half-dozen advertisers, such as NuLink Digital, Public Supermarkets and Toyota.
"Being able to sell all inventory in one package at a value overall was a quick first step for us to monetize the mobile inventory. Trying to sell it separately just did not make sense. We could have had all the different creatives made and ran then separately via ad ops, but why make something more complicated than it has to be? Having a Responsive Creative sales strategy with STRETCH™ really worked for us at the local level," said Jonathan Melville, head of interactive at the Times-Herald.
Sam Berlow, publisher of Edible Vineyard, a quarterly magazine that publishes stories on people who create, are inspired by, and taste the best seasonal and local flavors in Martha's Vineyard, said:
"… I needed an advertising platform that was not only easy for my advertisers to understand but also intelligent enough to integrate easily into my magazine's responsive website without any extra development. ResponsiveAds was the solution; it has allowed me to monetize my content by delivering my advertisers' messages seamlessly across devices and platforms."
In addition, other customers are saying:
"Amazing quality, there is no pixelation, and the ad looks just as good with animation on mobile as it does on the big screen."
"We really like this STRETCH™ approach because we can get custom sizes that can best fit to our editorial. It looks like ResponsiveAds has cracked the scalability of the native advertising approach."
"We thought we saw magic when we first saw what can be done with Responsive Web Design. Now, we can have ads that do the same thing at better quality … This is a break-through."
Join ResponsiveAds' team for a live Twitter chat using hashtag #rwdads on March 13, 1 p.m. EST. In addition, ResponsiveAds will hold a Google+ Live Hangout on Air video chat March 27, 1 p.m., to answer publishers' questions regarding responsive design, advertising and solutions.
Don't forget to continue the conversation on Twitter using hashtag #responsivenowandhow, Facebook, Google+, and over at the ResponsiveAds blog.
To download the e-book, and for more information, visit: http://www.responsiveads.com/download-e-book-responsive-web-design-and-advertising/
About ResponsiveAds, Inc.
ResponsiveAds, Inc. is the publishing and advertising industries' first responsive web advertising- focused company, built from the ground up to best serve the new challenges in multi-screen design and monetization. Its innovative, patent-pending technology gives publishers the freedom to seamlessly scale existing Ad Ops organizations to the needs of the marketplace. ResponsiveAds is offering a suite of products and professional services targeting multi-screen advertising for revenue acceleration across all screens. ResponsiveAds is working with industry groups such as the IAB (Interactive Advertising Bureau) to develop these new industry ad format standards. The company is comprised of mobile and online advertising technology experts passionately looking to solve the problems of convergence and monetization of media.