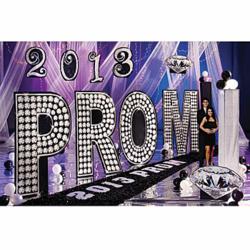 South Whitley, Indiana (PRWEB) March 11, 2013
Where prom themes are concerned, many people might assume that there's nothing new under the sun. But Stumps, a party decorations cataloger based in South Whitley, Indiana, that has been a leader in the high school prom industry since 1926, always has some new ideas under its lace sleeves.
"We're excited to offer nine new themes for prom 2013," notes Keith Bansemer, Director of Internet Marketing at Stumps. "Each high school class wants to outdo their predecessors with something creative. If it's not one of our other sixty prom themes," he says, "this year's new prom theme twists should create quite a memory."
Here are five of the new themes from Stumps for the coming prom season:
Bling – A Diamond Studded Affair
No less an authority than Marilyn Monroe sang, "Diamonds are a girl's best friend." If anyone would know that, she would.
The "Diamond Studded Affair" prom party kit is all shimmer and sparkle with a column that shines like sliver leaf and giant letters that glitter with rhinestones.
Couples might like to pose with a giant decorative diamond standee, which would be worth about 60,000 carats if the gem were real.
Other prom favors that bring the bling include glittery swag bags which include a key tag, beads, and buttery mints and personalized stem flutes.
Prehistoric Romance – A Dino Adventure
"Jurassic Park" isn't most couples' idea of a date movie, but dinosaurs are rarely as benign as they come in the "Prehistoric Romance" prom kit.
The kit allows couples to make like a teenaged Fred and Wilma enjoying romance in the shadow of a Camarasaurus and two other dinosaurs including a Tyrannosaurus Rex.
No prehistoric love nest can be complete without a volcano and a waterfall surrounded by palm trees!
Rio Carnival – A Brazilian Night to Remember
Everyone is familiar with Mardi Gras in New Orleans, but Rio's Carnival may be bigger and flashier.
The "Rio Carnival" party kit includes everything prom-goers need to celebrate Brazilian-style, including giant masks and colorful columns.
Dancing the Samba is optional but is strongly encouraged! All couples should have masks to wear that they can take home as favors. Tables can be sprinkled with colorful feathers. Have exotic birds to take pictures next to will make for lively photo keepsakes.
Shanghai Moon – Escape to the Orient
Oriental splendor awaits the school that chooses this theme.
Those who aren't familiar with what a night on the town in Shanghai entails should find a remarkable simulation in the elegant "Shanghai Moon" party kit. Decorate the venue with red drapes and swaged gossamer.
The kit features stylish Chinese accents including a pagoda, peace column, and lighted drum. An entrance evokes an archway leading to a Chinese garden.
Don't Stop the Music of the Night
Stumps offers many strategies for dressing out a music-themed prom including the "One More Night Kit," which includes a giant decorative keyboard.
Other melodic items that can be purchased separately include balloons, picture frames, photo cubes, coasters, and note-card holders.
Add prom favors like key chains, mint tins and travel mugs and all your prom elements will definitely make beautiful music together.
About Stumps Party
Since 1926, Stumps Party's prom catalogs have been welcomed by teachers and prom committees in schools throughout the United States. Those catalogs are now online at StumpsParty.com. With more than 36,000 products, Stumps offers every item that schools need for this year's prom. For prom themes, prom decorations, and prom favors, visit StumpsParty.com.