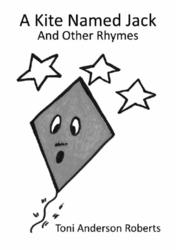 Lynchburg, Va. (PRWEB) March 11, 2013
Liberty University Press recently released "A Kite Named Jack and Other Rhymes," a children's book by Toni Roberts that promotes faith and Christian morals. This collection of rhymes is based on Roberts' childhood memories. The rhymes cover a variety of situations a young person may encounter, each depicting a specific moral message.
Roberts said she felt compelled to share these experiences so young readers may be inspired, encouraged, and optimistic.
"My hope is that this book would help children come to grips with some of their fears, and also contribute to [their] imagination, Christian principles, and integrity in a world that seems to have lost focus on many of these values," Roberts said.
Roberts' grandchildren created all of the book's illustrations.
"A Kite Named Jack and Other Rhymes" is available as an e-book from Amazon, Barnes & Noble, and iTunes.
About the Author:
Raised in the Tidewater area of Virginia, Toni Anderson Roberts has three sisters who are very close in age. Growing up, her parents were always involved in church, setting a strong example for her to live out her own faith. Her hobbies include drawing, exploring nature, and caring for animals.
About Liberty University:
Liberty University, located in Lynchburg, Va., is the world's largest Christian university. Nearly 100,000 students attend classes on its 6,800-acre residential campus and study in its thriving online education program.
About Liberty University Press:
Liberty University Press is at the forefront of helping Christian authors achieve their personal publishing goals. For more news and information on Liberty University Press, visit http://www.Liberty.edu/LibertyUniversityPress.