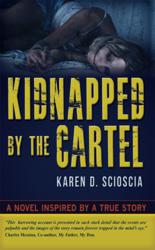 "Floors from the first page … all we can do is hang on and keep turning the pages."
— Roland Wilkerson, The Charlotte Observer
Charlotte, NC (PRWEB) March 12, 2013
The U.S. State Department has warned against non-essential travel in the violent Mexican border cities of Tijuana and Ciudad Juarez.
There was a beautiful, young American woman in Tijuana, Mexico. Then she disappeared.
"Kidnapped by the Cartel: A Novel Inspired by a True Story." This action-packed novel takes the reader into the putrid depths of Tijuana, Mexico, where a young American woman was taken against her will. Drugged and tortured, she lived in constant fear for her life. After being used and abused, the captive was destined for the Cartel's prostitution trade. "Kidnapped by the Cartel" reveals Tijuana's slimy backstreets and opens the doors into the secret covens of Mexican organized crime, a labyrinth where many are lost forever. A dramatic rescue may be the woman's last hope.
Advance Praise for "Kidnapped by the Cartel":
"There could not be a more timely story… it's a must read."
— Sonny Girard, author of Blood of our Fathers and Sins of our Sons
"Floors from the first page … all we can do is hang on and keep turning the pages."
— Roland Wilkerson, The Charlotte Observer
About the Author
Karen D. Scioscia is a freelance author, SAG-AFTRA member, and corporate executive speech writer. She writes a weekly column for the Charlotte (NC) Observer, is a Yahoo.com contributor, and has had numerous articles published.