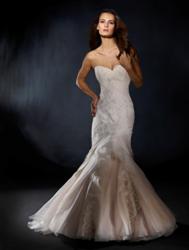 Industry Consultant Dale Buziecki states, "We feel it's important to empower the workforce and to support U.S. based manufacturers."
Glen Elly, Illinois (PRWEB) March 12, 2013
The retailer offers the new House of Brides Couture in Chicago and its salons in Orland Park and Schaumburg. The retailer also displays the complete collection of wedding dresses on its website.
Designer Tamara Kristen creates for bridal collection. The designer is acclaimed noted for her simple, sophisticated styles in luxurious fabrics.
Notably, the designer's gowns are produced in the United States. They are among a small percentage of designers who do not manufacture in China.
The majority of wedding designers began moving their manufacturing to China approximately 15 years ago. The China factories boasted inexpensive production costs at a time when production costs were on the rise in the U.S.
The move resulted in a more profitable yield for the designers but also meant significant job losses in the U.S.
The retailer plans to expand its U.S. made product lines. The retailer's buyers are actively researching and contacting other designers manufacturing in the U.S. As Industry Consultant Dale Buziecki states, "We feel it's important to empower the workforce and to support U.S. based manufacturers."
The Spring 2013 bridal collection is available to view on the retailer's website. Spring 2013 samples are available to view and try-on at the Chicago, Orland Park and Schaumburg locations. Contact information is listed on Locations & Hours of the website.
About House of Brides:
House of Brides established its first brick-and-mortar store in 1929 and has since grown to 11 Chicagoland stores and global E-Commerce website, http://www.houseofbrides.com. Millions of brides and their wedding parties visit the salons and global website for over 50,000 wedding and special event products.