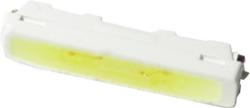 Seoul, South Korea (PRWEB) March 12, 2013
Seoul Semiconductor, a global LED manufacturer (http://www.seoulsemicon.com), has announced a 0.6T side view LED that achieves 8.8 lumens, the world's best performance in light output, to occupy the fast-growing phablet market. (phablet: smart PHone and tABLET PC) This new side-view LED achieves the world's best brightness and energy efficiency by improving the efficacy and the design of its LED chip, package and phosphors. The added performance improves the visibility of phablets in bright places and gives the added benefit of energy savings which helps extend battery life. The company plans to apply this technology to other sizes of side-view LEDs such as the 0.8mm and the 0.4mm.
Seoul Semiconductor has been in mass production of 1.0mm type side-view white LEDs since 2002 and has successively launched 0.8mm, 0.6mm and 0.5mm side-view LEDs. The products have been adopted by the major players in the mobile phone and tablet PC market space. Using the accumulated experience and outstanding technology for side-view LEDs, Seoul Semiconductor will continue to offer high-end products with a variety of specifications for the global phablet market.
Hyuk-won, Kwon, IT division leader says, "Seoul Semiconductor maintains a leading position in the side-view LED market by continually introducing thinner and brighter products to meet the needs of our customers." He added that, "The company is committed to serving the needs of the fast-growing global phablet market."
For further information, visit the homepage of Seoul semiconductor(http://www.seoulsemicon.com).
Seoul Semiconductor – About Us
Seoul Semiconductor (SeoulSemicon.com) manufacturers and packages a wide selection of light emitting diodes (LEDs) for the automotive, general illumination/lighting, appliance, signage and back lighting markets. The company is the world's fifth largest LED supplier, holding more than 10,000 patents globally, while offering a wide range of LED technology and production capacity in areas such as "nPola", deep UV LEDs, "Acrich", the world's first commercially produced AC LED, and "Acrich MJT - Multi-Junction Technology" a proprietary family of high-voltage LEDs.
The company's broad product portfolio includes a wide array of package and device choices such as AC driven LEDs, high-brightness LEDs, mid-power LEDs, side-view LEDs, through-hole type LED lamps, custom displays, and sensors.
The company is vertically integrated from epitaxial growth and chip manufacture in it's fully owned subsidiary, Seoul Optodevice, through packaged LEDs and LED modules in three Seoul Semiconductor manufacturing facilities. Seoul Optodevice also manufactures a wide range of unique deep-UV wavelength devices. The packaged LEDs and LED modules are available in North America through Avnet Electronics, Digi-Key Corporation and Mouser Electronics.