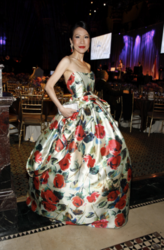 From contemporary Chinese art, design, fashion, architecture, music, dance, literature and other creative fields to food and travel, CHINESE ELEMENTS is about how elements of Chinese style are making their ways into our contemporary life
New York (PRWEB) March 12, 2013
CHINA HAPPENINGS™ , a multimedia platform founded by Chiu-Ti Jansen to focus on the lifestyle and cultural industries of contemporary China and their engagement with the world, announces the launch of Chinese Elements blog with international auction house Sotheby's (http://www.sothebys.com), starting February 2013. Concurrently, Ms. Jansen is also launching a column titled New York in Style with Financial Times' Chinese Edition (http://www.ftchinese.com).
Written by Chiu-Ti Jansen, founder of the CHINA HAPPENINGS™ brand, Chinese Elements brings an informed vantage point on contemporary Chinese lifestyle and culture to sophisticated followers of Sotheby's, which include inquisitive connoisseurs, art lovers, world travelers and voracious readers about China. From contemporary Chinese art, design, fashion, architecture, music, dance, literature and other creative fields to food and travel, Chinese Elements is about how elements of Chinese style are making their ways into our contemporary life. To date, published blog posts have taken readers to Beijing where a special exhibition dedicated to young artists born after the Cultural Revolution was on view at the Ullens Center of Contemporary Art; to Dali, Yunan Province where artist Fang Lijun has converted his art studio into a welcoming hotel; and to New York Lincoln Center where "I Sing Beijing" brought together rising Western opera stars to sing in Mandarin.
According to Chiu-Ti Jansen, "Chinese Elements grows out of my search for dynamic and evolving Chinese styles in today's international world. I am interested in sharing my personal discoveries about how elements of Chinese style are simultaneously a disruptive move from, and a continuum of, China's rich history. I hope my blog will not only engage readers in the creative fields, but also readers in business and finance who desire to gain knowledge about China to enhance their cultural understanding and business opportunities." Through its blog postings and video presentations, Chinese Elements will introduce to the international audience a refreshing way to look at how China and Chinese styles artistically and aesthetically engage the world.
In line with her belief that true cross-cultural conversations must be bilateral, Chiu-Ti is also reaching out to the discerning readers of Financial Times Chinese Edition through her New York in Style column. One of the most influential foreign press in China, Financial Times' Chinese edition boasts more than two million readership. Written in Chinese from the point-of-view of an ex-Wall-Street-lawyer-turned-media-entrepreneur, New York in Style uses fashion and style as lenses to decode the worlds of power, money and desires in New York City. "The new rich in China are eager to gain an insider's track in the world capital of finance, fashion and art. They want to know how successful New Yorkers think about, and live with, fashion and style. They are looking for alternative ideas to enrich their expanding world views and life framework. In addition to the ways taste manifests itself in a cross-cultural context, I want to write about how one can appreciate the nuances of fashion without being succumbed to the dictate of trends."
A recent post of Chinese Elements blog, titled "How To Be a Chinese Foodie: Li Jin's Ink Paintings at Sotheby's," is available at: http://www.sothebys.com/en/inside/BlogHome/on-camera/chinese-elements/2013/03/how_to_be_a_chinese.html
An example of Ms. Jansen's New York Loves Style column, titled "A Foreigner in New York City" is available through Financial Times' Chinese site at: http://www.ftchinese.com/story/001049310?full=y
About Chiu-Ti Jansen and CHINA HAPPENINGS™
Chiu-Ti Jansen is a TV presenter, a lifestyle magazine publisher and a writer based in New York City. CHINA HAPPENINGS™ is a multimedia platform founded by Ms. Jansen, Publisher of YUE Magazine, to focus on the lifestyle and cultural industries of contemporary China. Ms. Jansen writes a blog titled CHINESE ELEMENTS for international auction house Sotheby's (http://www.sothebys.com) and a fashion and style column titled NEW YORK IN STYLE for the Financial Times' Chinese edition (http://www.ftchinese.com). She wrote a column titled CHINA HAPPENINGS for the NYO Magazine. She has also written on Chinese luxury lifestyle and cultural scenes for English publications such as Sotheby's at Auction magazine and the Whitewall Magazine. A native speaker and writer of Mandarin Chinese, she regularly contributed to the China Times, the United Daily and The Artist Magazine on a wide array of cultural and art-related issues. Prior to founding CHINA HAPPENINGS™, Ms. Jansen was a New York-based corporate partner of Sidley Austin LLP, an international law firm of approximately 1,700 lawyers. Educated at National Taiwan University with advanced degrees from Yale and Columbia, Ms. Jansen is currently an International Honorary Ambassador of the Lang Lang International Music Foundation, a member of the Contemporary Art Advisory Committee of China Institute in America, a Board Member of the Couture Council of Museum at the Fashion Institute of Technology (FIT) and a life member of the Elizabethan Club (for Renaissance Studies) of Yale University. The Art and Living magazine featured her in an interview included in its 2012 Bridging the East and the West Edition. She has appeared as a fashion expert on China's top-rated fashion/beauty show I Am a Great Beauty and has been interviewed by Wall Street Journal, Women's Wear Daily, World Journal, Jing Daily, SINOVISION, China Press, Sing Tao Daily, among others. Ms. Jansen has hosted featured video presentations on the New York Fashion Week for China's SINA FASHION and Beijing Television, interviewing designers and super models such as Jason Wu, Liu Wen, Phillip Lim and Oscar de la Renta.