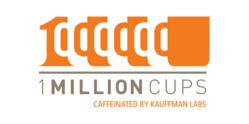 KANSAS CITY, Mo. (PRWEB) March 12, 2013
1 Million Cups, an education program created by Kauffman Labs for Enterprise Creation to bring together and engage entrepreneurs, has added two more cities to its expanding map. Kauffman Labs is a program of the Kansas City-based Ewing Marion Kauffman Foundation.
When Reno, Nev., and Cedar Rapids, Iowa, launch their weekly gatherings tomorrow morning, they will be the fifth and sixth cities to join the 1 Million Cups family since the program launched in Kansas City in April 2012. Both an educational and networking opportunity, 1 Million Cups provides startup founders with an open, public forum to present their businesses to fellow entrepreneurs and community members.
Reno, the first city in the western United States on the 1 Million Cups map, launches under the guidance of program organizers Entrepreneurial Minds (http://www.emindsreno.org) and the Economic Development Authority of Western Nevada (http://www.edawn.org). In Cedar Rapids, Vault Coworking and Collaboration Space (http://www.crvault.com) is bringing the program to town. Cedar Rapids is the second Iowa city to launch 1 Million Cups, following Des Moines' introduction of the program during Global Entrepreneurship Week last November.
Jigar Patel, director of community relations at Entrepreneurial Minds, said Reno has closely monitored the growth and success of 1 Million Cups in Kansas City. "We've tracked its phenomenal growth and ability to energize local entrepreneurs," he said. "We see its real potential to 'Reno-vate' our city into a startup community."
"We feel 1 Million Cups provides a unique value to entrepreneurs by bringing them together to share ideas and to learn about each other and their businesses," said Kristopher Fassler of Vault Coworking and Collaboration Space. "The program also can help to support the foundation of a successful and thriving entrepreneurial ecosystem."
The two new cities join Kansas City, Des Moines, Houston and St. Louis in offering 1 Million Cups locally. According to program co-founder Nate Olson and Thom Ruhe, vice president of entrepreneurship at the Kauffman Foundation, the goal is to have 1 Million Cups brewing in 20 cities, including a handful of international sites, by the end of 2013.
"Each week in each city, 1 Million Cups gives two early-stage startups the opportunity to present their companies to an audience of mentors, advisers, researchers, builders, makers and other entrepreneurs," Ruhe said. "Each founder presents for six minutes and then fields audience questions for 20 minutes more. We're thrilled to be proving our program's hypothesis – strong entrepreneurial communities can be built over a million cups of coffee and the conversations and connections they create."
Since it launched in Kansas City last April, attendance at 1 Million Cups in Kansas City has grown rapidly. Weekly attendance now regularly tops 250, up from about a couple dozen people at its start.
For more information, visit http://www.1millioncups.com or follow @1MillionCups on Twitter.
About the Ewing Marion Kauffman Foundation
The Ewing Marion Kauffman Foundation is a private, nonpartisan foundation that aims to foster economic independence by advancing educational achievement and entrepreneurial success. Founded by late entrepreneur and philanthropist Ewing Marion Kauffman, the Foundation is based in Kansas City, Mo., and has approximately $2 billion in assets. For more information, visit http://www.kauffman.org, and follow the Foundation on http://www.twitter.com/kauffmanfdn and http://www.facebook.com/kauffmanfdn.