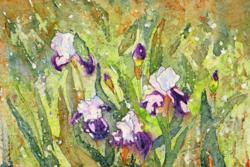 We'll explore this fascinating ancient technique and everyone will create a unique piece of art for their home.
Denver, Colorado (PRWEB) March 12, 2013
On Sunday, March 17, 10:00 a.m. to 2:00 p.m. explore the ancient and exciting process of batik painting—a wax-resist dyeing technique from Japan and Indonesia. You'll learn how to apply this ancient technique to watercolor on rice paper and create a rewarding piece of art to take home. Bring a simple sketch (up to 11 x 18) ready to transfer to rice paper.
Instructor Dr. Martha Heppard studied at Harvard University and the University of Southern California. She started painting in 2004 under the direction of Molly Davis. Currently, her instructors include Rick Brogan, Boris Shoshensky and Kevin Weckbach. She has participated in several local, state and national shows. She teaches the technique of watercolor batik on rice paper across the Denver metropolitan area.
Provided supplies include rice paper, wax and other materials. Please visit our website for a list of other supplies needed. The workshop will be held at the Mizel Museum, 400 S. Kearney Street, Denver. Price is $50 for members and $55 for non-members. Members use discount code BATIK at checkout.
To register and for more information visit http://www.mizelmuseum.org or call (303) 749-5018.