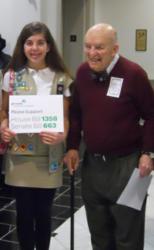 Lamb Lodge was built with the help and labor of Anne Arundel County residents
Baltimore, MD (PRWEB) March 14, 2013
Saturday, March 9, 2013 Girl Scouts of Central Maryland (GSCM) participated in Bond Bill Saturday in Annapolis and presented testimony in support of a $200K Bond Bill request via SB663 and HB 1358. The bond bill funds will be used to preserve Lamb Lodge (aka the TeePee) located on the grounds of Girl Scouts' 34-acre Camp Woodlands in Annapolis.
The structure's unique conical shape was conceived by architect Peter Lamb. Built with the help and labor of Anne Arundel County residents and Girl Scout volunteers, it received the 1954 AIA Award of Merit for Excellence in Architectural Design It has been a treasure of the camp and Council for a half-century.
After years of usage the structure is in need of costly repairs.To defray some of the costs GSCM has appealed to the state for help in funding the repairs of this historic site. Lamb Lodge and Camp Woodlands provide camping and outdoor exploration activities to approximately 19,000 Girl Scouts and community partners annually. "Our beloved Lamb Lodge is now in desperate need of restoration," Grace Fieni, a Cadette Girl Scout, told the panel of legislators during Bond Bill Saturday.
For more information about the restoration of Lamb Lodge (http://www.lamblodge.org/Lamb_Lodge/Design.html) or to find out how you can help preserve this iconic structure, contact Pattie Dash, Vice President of External Affairs, pdash(at)gscm(dot)org or 410.358.9711, ext. 232.