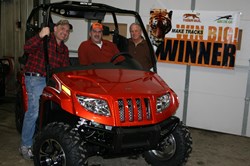 Wow! I was totally caught off guard when Dave Hans from H.J. Baker's Tiger-Sul called and told me I had won. ... I can't wait to start making tracks with my new Arctic Cat ATV."
Westport, CT (PRWEB) March 12, 2013
H.J. Baker's Tiger-Sul Products on Thursday present Kevin Dockter, a Sales Agronomist with Dakota Plains Coop in Forman, North Dakota, a brand new Arctic Cat Prowler XTZ 1000i ATV. Kevin was the grand prize winner of H.J. Baker's "Make Tracks Win Big" sweepstakes. He received the ATV at Titan Machinery in Britton, South Dakota where Jeff Oelkers, Manager of ATV Sales at Titan, helped organize the event. Drew Taylor, Director of Tiger-Sul Product Management presented the keys to a very appreciative Dockter.
Dave Hans, Director, Fertilizer Marketing & Product Development for H.J. Baker's Tiger-Sul Products stated: "We are very pleased to be able to present Kevin with a brand new Arctic Cat Prowler. The sweepstakes promoted a webinar on the agronomic and economic benefits of applying sulphur to your fields in the fall. It improves sulphur fertilizer efficiency for your spring crops and enhances nitrogen and phosphorus uptake. Both the sweepstakes and the webinar were very popular. We are pleased Kevin took the time to enter and are certain he will enjoy his new ATV."
Kevin Dockter, the winner of the ATV stated: "Wow! I was totally caught off guard when Dave Hans from H.J. Baker's Tiger-Sul called and told me I had won. I appreciate Tiger-Sul putting on the sweepstakes and I am glad I took the time to enter. I can't wait to start making tracks with my new Arctic Cat ATV."
Twenty additional winners from across the United States and Canada will receive an Arctic Cat "Cat's Pride" jacket.
H.J. Baker is a name synonymous with quality in the feed, fertilizer and sulphur industries for more than 160 years. With more than 20 locations throughout the United States, Canada and Mexico, H.J. Baker has been mobilizing resources and providing outstanding products and services to the agriculture industry throughout the world. The company's strategically located processing plants, offices and warehouses create a super-efficient pipeline for the vital commodities and products that it sources, manufactures and markets. H.J. Baker & Bro., Inc. is headquartered in Westport, Connecticut USA.
Tiger-Sul Products (Canada) Co. is a wholly-owned subsidiary of H.J. Baker & Bro., Inc. Tiger-Sul Products is a global leader in Sulphur Bentonite, Sulphur Bentonite Micronutrients technology, and other well-established fertilizer products with over 40 years of operational excellence. TIGER®, TIGER 90CR® and TIGER MICRONUTRIENTS® are registered trademarks of Tiger-Sul Products in the United States, Canada and other countries.
For more information on H.J. Baker & Bro., Inc. visit their website at http://www.bakerbro.com.