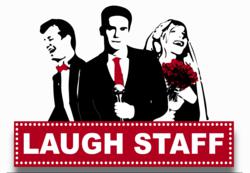 "May the Best Man Win"
Cleveland, Ohio (PRWEB) March 13, 2013
Laugh Staff finally opened its doors for business this week. Consisting of comedians and humor writers, the purpose of Laugh Staff is to help its clients write a funny, memorable best man speech.
Laugh Staff's opening this week provides a new and exciting niche in the wedding market. It's hard to be funny and Laugh Staff knows that. The Laugh Staff coaches are professionals who performed all over the country in front of thousands of colleges, corporate events and comedy clubs. In addition, many of the comedians are professional writers and have written for shows such as Saturday Night Live.
They are not in it for the glory – anonymity is key to them. If a client does not want anyone to know he or she had help writing his speech, no one has to know. The motto is, "It's your speech, we just want to make it better."
There are four packages to choose from for help on best man speeches. The client chooses the one that best fits his needs, such as basic edits, phone call meetings and even Skype sessions with a Laugh Staff consultant. The coaches can help the client write the whole speech if someone has no idea where to start. They believe that it is the client's story; Laugh Staff just wants to "punch it up" and make it the best it can be.
So who are these guys (and girls)? Laugh Staff is the creation of co-founders Cameron Amigo and Josh Womack, both stand-up comedians. After several friends requested help with their best man speeches, Amigo and Womack decided these skills should be put to use. In the summer of 2012, Laugh Staff Inc. was born.
From there, Amigo and Womack assembled a team of capable (and hilarious) comedians and writers who are located all over the country. The team includes Jay Black, Ray DeVito, Curtis Cook, Vinnie Nardiello, Mike Casey, Chris Wilkes, Kyle Ayers, Kali Fencl and Sam Allard.
Currently, there is no other company in the market quite like Laugh Staff. The belief is that a wedding is usually put together using professional services. Brides don't have their grandmas bake their wedding cake – they have professionals do it. The same should go for the speeches. It's an art. Laugh Staff is not looking to use this business as a way for their comedians to get more stage time; they look at it as a way to help clients write a speech to be proud of. It might be the bride's special day, but it's your speech; Laugh Staff just wants to make it the best it can be.