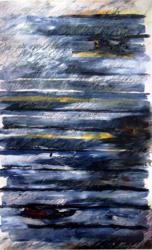 Peña's art is unique, interesting, and aesthetically spectacular.
Santa Fe, NM (PRWEB) March 26, 2013
SWAIA and Collected Works Bookstore present a talk with Native American contemporary artist Alex J. Peña (Comanche), Thursday, April 11th at 6pm. Admission is free. Peña will discuss his evocative and beautiful paintings and sign complimentary copies of Native Peoples magazine where his work is prominently featured. Directly following, Legends Santa Fe gallery will feature an exclusive champagne reception for those who attend the Collected Works event. A copy of Native Peoples magazine signed by Peña is required for access to Legends Santa Fe.
Peña's work combines multiple media and rich colors with an intriguing use of line and natural forms; the result is a stunning body of artwork that speaks to, as he writes, "a statement of cultural inspiration/knowledge, interpersonal relationships, and/or the idea of beauty." The winner of a 2012 SWAIA Fellowship, Peña was one of the stars at last year's Santa Fe Indian Market.
Peña's recent work is rooted in the notions of aesthetics and line. His exploration of these ideas yields delicate, yet dazzling, pieces articulated with motifs found in nature and a palette of both softly and vividly hued paints. Each work delights the eye, and invites the viewer into an enigmatic world of its own. Peña's art is unique, interesting, and aesthetically spectacular.
Peña regularly participates in European exhibitions, teaches at the Institute for American Indian Arts, and has won myriad awards and residencies. In addition to his work with SWAIA and the Santa Fe Indian Market, Peña is represented by Legends Santa Fe gallery.
About Collected Works
Collected Works is an independent and locally-owned business, located on the corner of Galisteo & Water Streets in downtown Santa Fe, just blocks from the historic Plaza. They are a full-service general bookstore with an inventory of over 30,000 titles, including a large selection of local travel, Southwest and Native American history, art and architecture, poetry, and children's books.
Located at 202 Galisteo St., Santa Fe, NM 87501
505.988.4226
About SWAIA
SWAIA is an advocate for Native American arts and cultures and creates economic and cultural opportunities for Native American artists by producing and promoting Santa Fe Indian Market Week™, the finest Native American art and cultural event in the world; cultivating excellence and innovation across traditional and non-traditional art forms; and developing programs and events that support, promote, and honor Native artists year-round.