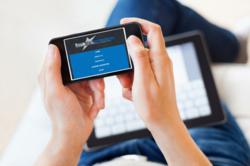 25 percent of smartphone users say they "mostly go online using their phone, rather than with a computer." - NBCnews.com.
Keller, TX (PRWEB) March 13, 2013
Many firms have little or no idea how their website looks on a smart phone or tablet, but consumers are using their mobile devices to access the web more than ever before. In order to address this growing trend, eTekhnos is launching a webinar series to help benefit agencies and other firms optimize their websites for mobile access.
Responsive web design means crafting a website to provide an optimal viewing experience: easy reading and navigation across a wide range of devices from desktop computer monitors to mobile phones.
A striking 87 percent of smartphone owners check the Internet or email on their phones, including 68 percent who do so generally every day, and 25 percent say they "mostly go online using their phone, rather than with a computer." - NBCnews.com.
New developments in code and technology mean eTekhnos can optimize an existing site - in HTML or WordPress - much more quickly and less expensively than ever possible before.
Key Details

Very quick turnaround - less than 3 weeks
Very little needed from client's staff - usually just hosting information
Low cost - only takes between 3-4 hours to optimize.
Join eTekhnos for a free 30 minute webinar March 19th or 20th to learn more and see examples. The webinar will discuss mobile optimization as well as integrating UBA resources into a website with ease.
Webinar #1 - Tuesday 19 March 2.00 pm CST
Webinar #2 - Wednesday 20 March 10.00 am CST
Reply or call to join the webinar or set up a time to discuss how eTekhnos can help.
About eTekhnos
Founded in 2005, eTekhnos, Inc. custom designs HR and benefits portals that simplify management, lower barriers to access, and promote effective communications. eTekhnos works with brokers and their employer groups to centralize benefits, payroll, and wellness resources on a single platform, which is accessible via a single sign-on feature, making critical information instantly available from any desktop, laptop, tablet, or mobile device with Internet connectivity. For more information, visit http://www.etekhnos.com/, or e-mail info(at)etekhnos(dot)com.
###
For editorial information, contact:
Jeff Hill
eTekhnos
817-897-0947