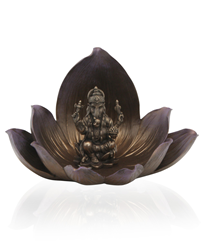 Elephant-headed and many-armed, Ganesha is a mystifying, even comic figure to the uninitiated.
New York, NY (PRWEB) March 13, 2013
Ganesh Mall introduces expanded and unique collection of statues inspired by Ganesh, the lovable elephant-headed deity of Indian origin. The collection includes nearly 100 Ganesh Statues in a variety of colors, sizes, and artistic designs.
Ganesh is a deity who is always available to his followers; his large ears always open to hear cries for help and guidance. The collection of statues allows anyone to see Ganesh's kind face wherever they are: at home, in the garden, in the office or on-the-go. From miniature Ganesh statues which can be placed on the car's dashboard to large designs which can make the centerpiece of a living room, they have it all.
Artists' materials range from marble to resin to soapstone to bronze to brass to hand carved wood and everything in-between. Every possible artistic style is present: realistic likenesses, abstract minimalism and whimsical, colorful depictions of this beloved deity.
Whether you are seeking a small, travel-size statue or a 2-foot high, bronze statue, Ganesh Mall is the ultimate destination. They are always adding new styles, new colors and new sizes so be sure to visit today and see which one is exactly right for you.
About Ganesh Mall
Ganesh Mall is a New York based online store specializing in artwork, home décor, Ganesh jewelry and Indian gifts inspired by Vedic traditions and Ganesh legends. Ganesh Mall's goal is to bring positive energy to all people, regardless of spiritual background.