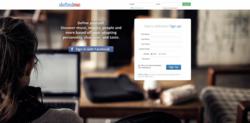 Define yourself through music, movies, books, and more!
Los Angeles, CA (PRWEB) March 14, 2013
Although the concept of being suggested music and movies based off the things you have liked seems familiar, the method Defindme uses is a much more human experience than the rest.
With other sites, users like one genre and suddenly they get suggestions of music within the same genre, although not particularly the same sound or style of the users preference; this method is what makes Defindme.com a possible competitor in the growing social media scene.
When users like media items in Defindme, the engine begins matching the user with all the other users within the site, generating percentages between the user and all the rest. This is where the magic happens.
As users begin to create detailed profiles with numerous likes/dislikes, Defindme can be more accurate and has more to compare the user with all the users in the site. Eventually, with a good number of posts, the user exemplifies their character, tastes, and preferences and begins receiving suggestions from users that have the same. It actually works.
Example, Albert (Co-Founder) from Los Angeles, begins receiving suggestions from a young woman from the UK. Because they are similar in music tastes, Albert now annoys David (Co-Founder) by playing the song over and over again in the office.
Defindme is also built on a Social Network foundation, meaning you can like, comment, add photos, add friends, message, chat, etc. Allowing communication with your friends as well as communications with new people you meet from all around the world, to be simple and easy.
"Imagine all the people in the world that can influence your life that you are never going to meet" is the statement that brought the problem to the subsequent solution. And after two years of development, stress, anger, frustration, and some hardcore anxiety attacks, the solution presents itself in the form of Defindme.com
We invite you to join and try out for yourself the first version, of a work in progress, that connects your definition of yourself, with a network of global definitions, to share and discovery new music, new movies, new books, and new friends.