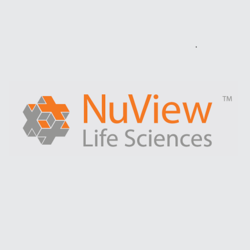 PARK CITY, UT (PRWEB) March 13, 2013
NuView Life Sciences (NLS), a privately-held company developing next generation imaging diagnostic biomarkers with the ability to identify and locate disease in the earliest stages of development, today announced the presentation of positive clinical results for its Breast Cancer imaging agent NLS-VPAC1 (TP3805) at the 2nd World Congress on Ga-68 in Chandigarh, India on Feb 28th. NuView Life Sciences possesses exclusive worldwide commercialization rights to NLS-VPAC1.
Mathew Thakur, Ph.D., academic collaborator, Professor of Radiology and Director of Radiopharmaceutical Research and Molecular Imaging at Thomas Jefferson University (TJU), Philadelphia, presented data from his investigator-lead, Phase 1 feasibility study that imaged Breast Cancer in 19 patients by utilizing NLS-VPAC1 (labeled with the radioisotope 64Cu) with PET (positron emission tomography) and PEM (positron emission mammography). NLS-VPAC1 unequivocally identified 100% (n=20) of the malignant lesions, irrespective of their hormonal status. In addition, NLS-VPAC1 detected four sentinel lymph nodes (100%). NLS-VPAC1 imaging can be performed within 15 minutes of injection and does not require patient fasting or monitoring of their glycemic levels (unlike F-18-fluorodeoxyglucose (FDG-PET), which is not a cancer-specific agent). Due to this rapid tumor uptake, NuView is additionally investigating use of NLS-VPAC1 labeled with the shorter half-lived isotope gallium-68. This pharmaceutical labeled with Ga-68 can be produced by generators at local radiopharmacies. NLS-VPAC1 imaging can be performed on any current or future PET-based instruments.
"We are very pleased about the results of NLS-VPAC1, these data are consistent with our hypothesis and its potential for non-invasive detection and localization of malignant tumors in the breast and potentially other tissues like prostate, bladder and lung," stated Dr. Thakur.
"There are over 1.6 Million invasive breast biopsies performed each year in the U.S. at an average cost of $5,500 and over 80% result in a benign diagnosis," stated Paul Crowe, CEO of NuView Life Sciences. "These results are an encouraging step for NuView and Dr. Thakur. NLS-VPAC1 clearly has the potential to provide early and accurate diagnosis to the physician, reduce pain and discomfort to the patient, and reduce the heavy financial burden on healthcare payors."
NuView plans to initiate a multi-center Phase2 clinical trial in Breast Cancer in 2013. In addition, NuView and Dr. Thakur have been awarded a $2.6MM grant from the National Institutes of Health (NIH) to conduct an investigator-led, Phase 1 feasibility study with NLS-VPAC1 in Prostate Cancer patients. Planned initiation of this trial is 4Q 2013.
About NLS-VPAC1
NLS-VPAC1 is a cancer-specific molecular imaging biomarker with the potential to replace costly and painful invasive biopsy procedures in Breast, Prostate, and other cancers. NLS-VPAC1 targets and images the VPAC1 receptors, which are over-expressed in high density on the surface of breast, prostate, lung, bladder, and other cancer cells. This occurs very early in oncogenic transformation, well before cell morphology alterations for histologic confirmation. NuView is currently developing NLS-VPAC1 for the early detection and localization of Breast and Prostate Cancer using PET.
About NuView Life Sciences
NuView Life Sciences is a privately held company whose mission is the discovery, development, and commercialization of a new generation of diagnostic imaging probes and disease specific biomarkers. We are developing a vertically integrated radiopharmaceutical manufacturing and distribution organization to address current supply issues in the marketplace, and facilitate the development and commercialization of our product pipeline.
For more information, please visit http://www.nuviewinfo.com.