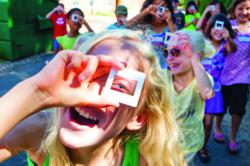 Kids and parents alike often comment that a week of Creative Journeys is comparable to tons of time in the classroom," said Jan Cooper Nadav. "A community develops each week that celebrates a child's capacity to explore, discover, collaborate and create.
Denver, Colorado (PRWEB) March 12, 2013
Registration is open for Creative Journeys Summer Camps at the Mizel Museum. Creative Journeys are affordable, week-long sessions beginning May 28 through August 12, 2013 for kids in preschool through eighth grade. Camps take place at locations in Denver, Louisville and Boulder.
At Creative Journeys, the arts are a vehicle for hands-on exploration and inquiry about the world around us. Kids of all ages, talents and backgrounds come together with Mizel Museum's esteemed teaching artists to make new discoveries and lasting summer memories. This summer's artists-in-residence include renowned visual artists, musicians, puppeteers, photographers, dancers, performers and sculptors, including Sheldon Sands, Monica and Tyler Aiello, Adrian Molina, Loribeth Gregory, Ivy Delon, Barth Quenzer, Anne Thulson, Mare Trevathan, Elaine Stanley, Scott Lyon, Kay Casperson, Darin Sullivan and Jacquie Van Horne.
Denver's own multi-talented art educator, poet, storyteller and hip-hop emcee, Adrian Molina, also known as Molina Speaks, and out-of-the-box artist Barth Quenzer will lead "High-Octane Creativity Lab: Big Lives, Big World, Big Ideas" for kids in grades three through six. This ground-breaking camp pairs these two remarkable art educators for an exploration of the power of kids' ideas and self expression through visual art, writing and performance. The camp will encourage kids to think of themselves, and for themselves, as innovators with important things to say about the world around them.
Artist Monica Aiello, known for her lush, mixed-media works on panels that blend her deep interest in astronomy, and Tyler Aiello, whose elegant sculptures draw from micromorphology within the organic world of biology, botany and chemistry, return this summer for "All Systems GO! The Cosmos and YOU", a camp for kids in grades three through six. Kids will discover the connections between space, life on earth and possibly beyond. Campers will investigate humanity's cultural and historical connections to the cosmos, the story of earth and our solar system's formation, the connections to life on our own planet, and the search for alien life. Later in the summer, Monica Aiello will lead "Our Place in Space", an exploration of our planetary neighborhood through art.
Fine art photographer Dona Laurita leads "Middle School Girls: Downright Awesome & Artful", to be held at the Mizel Museum and again at her studio in Louisville, for girls in grades six through eight. This special camp is specifically designed to help middle school girls find and express their own individual path in a fun and personal way through creative arts.
Mizel Museum partners with Four Mile Historic Park for "How the West Was Fun!" for kids in grades one through five. Offered twice this summer, kids spend each day learning about Colorado's history and making history of their own by experiencing a simpler way of life as they learn and play like Colorado children in the late 1800s. Campers will enjoy hands-on experiences as they learn about different groups of immigrants and the unique experiences of the Westward Expansion. Additionally, the customs, traditions and crafts of Jewish, American Indian, African American, Hispanic and Chinese pioneers will bring history to life.
For preschoolers, treasured storyteller Sharona Grinsteiner leads kids on an imaginative journey through the award-winning picture books of the PJ Library in "Stories That Jump Off the Page!" Children "jump" into imaginative stories through creative dramatics, art projects, movement and more. Stories camp will be offered in Denver at Temple Emanuel and the Hebrew Educational Alliance, and at the Boulder Jewish Community Center.
Other camps include "Comedy Kids: Improvisation and Cartooning", "Musical Globetrotters: Tuning Into the World", "No Strings Attached: Puppets & Masks From Around the World", "ArtRageous Pets, Compassionate Friends" and "Actor's Time Travel".
"Kids and parents alike often comment that one week of Creative Journeys is comparable to tons of time in the classroom, but so much fun," said Jan Cooper Nadav, Director of Education and Interpretation at the Mizel Museum. "A unique community develops each week that celebrates every child's capacity to explore, discover, collaborate and create."
Download the full Creative Journeys schedule at http://www.mizelmuseum.org/summer-camp-denver or call (303) 749-5018 for information. Parents can also learn more at https://www.youtube.com/watch?v=U6iOoqOBgYY.
An $25 early bird discount is offered for registrations received before April 15.
The museum is conveniently located at 400 S. Kearney Street in Denver's Hilltop neighborhood, one block south of Alameda Avenue and four blocks west of Monaco Parkway.
The Mizel Museum is a portal to the contemporary Jewish experience. Its exhibits, events and educational programs inspire people of all ages and backgrounds to celebrate diversity. Fine art, film, literature, drama, music, and technology offer interactive experiences that promote community, understanding and multiculturalism. The Museum is located at 400 S. Kearney Street, Denver, where visitors can tour the permanent exhibit, "4,000 Year Road Trip: Gathering Sparks", a dynamic journey through art, artifacts and digital media that narrates and illuminates Jewish history and culture. For more information, visit http://www.mizelmuseum.org or call 303-394-9993.