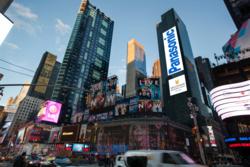 Times Square, New York (PRWEB) March 12, 2013
Panasonic Eco Solutions North America and A2aMEDIA today announced the start of an installation project for a new, state-of-the-art, high resolution digital display, known as a spectacular, on the façade of the Millennium Broadway Hotel New York, over the heart of the famous Times Square "BowTie," near W 44th Street, with visibility throughout Times Square. When completed in late spring 2013, it will be an exciting new digital canvas, and the largest solid single-faced LED display in the highest visibility advertising location in the world.
"We are thrilled to a have a prominent hotel like the Millennium Broadway Hotel New York in Times Square as our first-ever hotel venue installation," said Andrew Melton, President of A2aMEDIA. "The application of this unique technology will transform the already remarkable hotel into an icon of architectural and digital media harmony."
The Millennium Broadway Hotel Digital Display is designed to provide A2aMEDIA's clients with an enormous visual impact, with approximately 7,200 square feet (44 feet wide by 162 feet high) of digital image surface area – over 10 times the size of a standard billboard. With over 50 million annual visitors, Times Square is the most visited attraction worldwide, and placement in proximity to Times Square offers A2aMEDIA's clients exceptional visibility and reach, with the potential to achieve over 1.5 million daily impressions for digital images and messages, including full motion graphics. In addition, the new display also provides a unique way to drive brand commentary and social media feedback via a full suite of interactive features that include programs compatible with: Facebook, Twitter, Pic2Screen, Poll2Screen, Mobile Coupons, Mobile Contests, Text2Screen and more.
Brian Schuvart, Senior Vice President of Sales and Marketing at A2aMEDIA said, "The display will also provide monetization opportunities for the Millennium Broadway Hotel New York, and a visually appealing advertising platform for regional, national and international organizations through flexible marketing programs that will match brands' individuals' objectives."
With a range of innovative architectural and facility solutions to meet customer needs and challenges, Panasonic is managing the process, including the planning, engineering, procurement and construction of the project. The designer of record and installation partner for Panasonic is ICON Architectural Group (http://www.iconarchitects.com, http://www.iconHD.com). Beyond the installation, Panasonic will also provide consultation for the A2aMEDIA Millennium Broadway Hotel Digital Display with its design services.
"Panasonic and our world-class partners are committed to providing high impact solutions for our customers," said Richard Ballard, VP of Sales & Marketing, Panasonic Eco Solutions North America. "We have the products, people and creativity to meet the challenges of our high profile customers and partners, even in the most demanding environments, like Times Square."
For more information, please call (877) 438 7881 or email enterprise(at)us(dot)panasonic(dot)com.
About A2aMEDIA
Boston-based A2aMEDIA, Inc. is a next-generation media company that designs, installs, operates and sells advertising on large-scale LED media displays as transparent building facades. Its screens are up to 70% transparent and use one-sixth the electricity of conventional LED Boards. A2aMEDIA's transparent building facades are primarily installed in urban areas and entertainment venues such as hotels, stadiums, casinos, large retail facilities, and parking garages. Installations harmonize building form and function through powerful motion graphic displays, giving advertising agencies, advertisers and civic organizations a visually engaging, digital medium for sharing marketing messages, and enabling building owners to further monetize their high profile real estate.
For more information on A2aMEDIA and their services, please visit: http://www.a2amedia.com
About Panasonic Eco Solutions North America (Enterprise)
Panasonic Eco Solutions North America is a division of Panasonic Corporation of North America, the principal North American subsidiary of Panasonic Corporation (NYSE:PC). The company develops and provides customized and integrated technology-based system solutions for enterprise customers in a variety of industries such as sports and entertainment, as well as education. Additionally, the company supplies renewable energy and energy efficiency solutions to corporate and public sector organizations.
For more information on the company and its enterprise solutions, visit
http://www.panasonic.com/business/enterprise/enterprise-solutions-company.asp
About Millennium Broadway Hotel New York
The Millennium Broadway Hotel New York is located in the heart of Times Square just steps from Broadway shows, restaurant row and 5th Avenue shopping. The four-star, deluxe hotel features 750 beautifully appointed rooms and one of the largest and finest onsite conference centers in New York City, the only one certified by the International association of Conference Centers (IACC). It provides 43 state-of-the-art function spaces spanning 110,000 square feet across seven floors for meetings and exhibitions as well as the historic Hudson Theater, the only functioning Broadway Theatre which is regularly available for concerts, meetings, weddings and other events. The 109-year-old landmark is the second oldest theatre in New York. Stars such as Barbra Streisand and Louis Armstrong made their debuts at the Hudson Theatre, and the Tonight Show with Steve Allen first aired on that very same stage. For more information on the hotel, see http://www.millenniumhotels.com.
Editorial Contacts:
Dan Unger (Panasonic), 201-392-4571, dan.unger(at)us(dot)panasonic(dot)com
Aaron Fowles (Panasonic), 619-661-2223, aaron.fowles(at)us(dot)panasonic(dot)com
A2aMEDIA Contact:
Brian Schuvart, 617-620-8137, bschuvart(at)a2amedia(dot)com
SVP Sales and Marketing