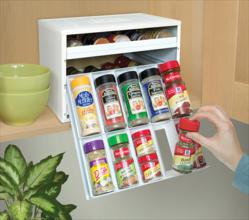 If you can quickly and easily find healthy ingredients in your pantry, you're more likely to stick to your diet and fitness plan.
Chicago, IL (PRWEB) March 14, 2013
Spring is around the corner, which means it's time to gear up for the dreaded annual spring cleaning ritual. This year, clear away the clutter first, and you'll be pleasantly surprised at how much faster and easier it is to dust, scrub and vacuum. Not only will there be less clutter to maneuver around, there will be less stuff to actually clean.
Easier said than done? Professional Organizer Susan Fleischman, founder of clutterfree, blogs about home organization for YouCopia Products and offers these tips:

Make a plan. If de-cluttering your home seems overwhelming, break it down into smaller steps. Organize and "spring clean" one room a week, or one room a month.
Be prepared. Gather supplies before you begin: large trash bags for items to toss or donate; plastic containers, corrugated file boxes and various size plastic bags for items to corral and keep; adhesive labels and a black marking pen, or a label maker. Use a bucket or handled caddy to tote supplies from room to room.
Start with the kitchen. With spring holidays especially early this year (Passover begins March 26 and Easter is March 31), start with the kitchen to ready your home for these celebrations and others that quickly follow, like Memorial Day, Mother's Day and Father's Day. For step-by-step de-cluttering instructions, check out the kitchen make-over projects at the YouCopia.com blog.
"Spring is also a great time for organizing the kitchen," says Fleischman, "because summer is around the corner, and we all want to look fit and trim in our bathing suits, shorts and tank tops. If you can quickly and easily find healthy ingredients in your pantry, you're more likely to stick to your diet and fitness plan."
Fleischman's blog also includes reviews of helpful tools and products for de-cluttering, including SpiceStack®, which keeps spices organized and accessible in a compact amount of cabinet space. "SpiceStack is a great example of how a little organization can help you easily prepare healthy meals and snacks," says Lauren Greenwood, VP of sales and marketing for YouCopia Products. "Replace the fat with flavorful spices and watch your waistline shrink."
Whether organizing your kitchen, closets, home office papers or anything else, Fleischman says the de-cluttering process is the same. She created the acronym SPOTS to help her clients remember the steps:
Sort. Begin by sorting like items into piles.
Purge. The decision-making step: keep, toss or donate. And since you already sorted, this should be relative easy.
Contain. Corral remaining like items together in appropriate size and style containers, or boxes, bins, plastic bags, or file folders, etc.
Tag. Fleischman's word for label, which she says saves time and effort in the long run.
Store. Deciding where to keep items, or in professional organizer jargon—establishing a designated home where an item will live. This is an old but always relevant adage: a place for everything and everything in its place.
Fleischman also recommends applying the 80/20 rule. Whether pots and pans, clothing, or papers, studies show we typically use about 20 percent of our belongings. As you purge, she says to ask yourself:
Do you currently use it? If not, when will you? If your answer is "maybe someday," remember that by the time someday rolls around, the item will likely be out of date and less useful.
Does it have important sentimental value? If so, consider ways to preserve the memory in less space. For example, instead of keeping your high school cheerleading uniform in mothballs, take a photo of it. Store the photo and toss the uniform.
With your home now clutter-free, you're ready to speed through spring cleaning. For more tips about organizing and maintaining order, visit Fleischman's blog at youcopia.com.
# # #
YouCopia Products is focused on designing organizers that help you feel calm, in control, and happy at home, including the innovative SpiceStack, CoffeeStack® and CafeStack®. YouCopia was founded in 2006 by father-daughter duo Mark Greenwood, an inventor with 30+ years experience in various industries, and Lauren Greenwood. YouCopia's organizers are available at leading retailers including Bed Bath & Beyond, The Container Store and Amazon.com.