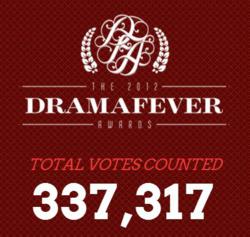 DramaFever is continually creating ways to connect viewers to their favorite actors and shows - Boram Nam, VP of Licensing
New York, NY (PRWEB) March 12, 2013
Korean drama and international television is having its moment, and now DramaFever, a leading US-based online TV network for world entertainment backed by AMC Networks and Bertelsmann, is holding its first annual "DramaFever Awards." The awards will shine the spotlight on fan favorites among a who's-who of must-see international dramas and celebrities. Voting runs exclusively on DramaFever.com through the end of March 2013, giving fans at least four weeks to vote to select the ultimate winners.
Fans vote for their favorites among six contenders in 12 categories, including who they love the most among male and female lead actors, performances by an ensemble cast, most unforgettable theme music, breakout actors and, of course, the big prize for "Drama Of the Year." Viewers are also being asked to choose among dramas and actors who electrified the screen as couples, best friends in the "bromance" category, exceptional villains, and doomed lovers. Categories like "Best Kiss" and "Most Underrated Drama" add to the fun and controversy.
"Beyond licensing and translation, DramaFever is continually creating ways to connect viewers to their favorite actors and shows," said Vice President Boram Nam who works with the top TV networks and content producers in Asia. "The annual DramaFever Awards is a very direct and fun way we can spread and share US fan enthusiasm for their favorite actors overseas."
International TV producers and actors might be surprised and excited to hear about their growing American fan base and who's watching them. Not what you'd expect, 85% of DramaFever's active 3.5 million US monthly viewers are of non-Asian descent, and its audience has been doubling every six to 10 months since 2009. In 2012, DramaFever viewers watched 2.8 billion minutes of video.
In just the first week of voting, over 300,000 votes have been cast. Voting is easy and can take as little as a few minutes. People simply click to vote and can preview clips. The rules are simple and work to reflect the level of fan devotion, allowing people to vote as many times as they like. DramaFever will award trophies in all categories directly to the stars overseas. Fans can get updates on DramaFever.com, the DramaFever blog, newsletter and the social channels.
Link to vote: http://www.dramafever.com/m/df2012awards/
ABOUT DRAMAFEVER
DramaFever is a rapidly growing online TV network for primetime shows from around the world. Founded in August 2009, New York-based DramaFever streams to millions over DramaFever.com, mobile and web TV apps (Android, iOS, Google TV, Roku) and also provides a curated selection of shows to Hulu, Netflix, iTunes and Samsung. Its mission is to help TV networks and entertainment companies create new audiences, distribution channels and revenue streams in the USA and other new markets, while providing consumers with a steady diet of the best TV from abroad. Shows are available on-demand to consumers with English and Spanish subtitles, just hours after the shows air overseas. People watch for free or with a premium subscription. To learn more, visit http://www.DramaFever.com.