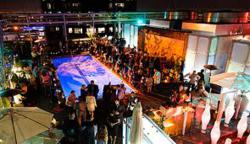 Los Angeles, CA (PRWEB) March 12, 2013
The E! Network is currently airing "Chasing the Saturdays," a new reality series that focuses on the tests and triumphs facing a five-member girl band from the UK trying to make it big in the American music market. During their stay in Los Angeles, The Saturdays have taken up residence in eight of the luxury penthouse suites at 1010 Wilshire, and the series showcases the unique architectural features and stunning views from this Los Angeles landmark. Six suites are reserved as residential space for the members of the group. The production office and the hair and makeup team are housed in two of the other penthouse suites in the luxury tower.
1010 Wilshire offers furnished apartments and suites designed to suit the fast-paced Los Angeles lifestyle. The penthouse suites featured in "Chasing the Saturdays" come complete with a long list of amenities that include the following:

Valet parking and maid service
Premium cable services and free high-speed Internet
Rooftop gym and entertainment center with complimentary happy hour
Stainless steel kitchen appliances
Hardwood floors
All utilities Included
All apartments and suites in the 1010 Wilshire tower are tastefully decorated and furnished and offer an exceptional living experience for tenants of this executive high-rise development.
The Saturdays first reached the top-ten list in the UK with their hit single "If This Is Love." Their debut album, "Chasing Lights," was favorably received by fans and critics alike and reached platinum status with the British Phonographic Industry. The band consists of five members:
Frankie Sandford
Mollie King
Rochelle Humes
Una Healy
Vanessa White
The Saturdays have achieved 11 top-ten hits in the UK, but American success has so far eluded the band. Their new E! series, "Chasing the Saturdays," focuses on their attempts to break into this new marketplace and make their mark on the U.S. music scene by promoting their new album, "The Chase," in its debut American release. Along the way, these five friends will experience the wonders of high-rise luxury living, the excitement of video production and the challenges of mixing professional and personal lives in this fast-paced urban environment.
About 1010 Wilshire
The iconic tower at 1010 Wilshire offers luxury living in the heart of Los Angeles. This elegant and glamorous residential development has played host to numerous film and television productions, including "Criminal Minds," "NCIS Los Angeles," "Numbers" and "Post Grad." Apartments, executive suites and penthouse residences are available for tenants of this downtown Los Angeles tower address.
About The Saturdays
Founded in 2007, The Saturdays have enjoyed a meteoric rise to the top of the British pop charts. This tight-knit group of five friends is now taking on the challenges of the American music world with the same energy and enthusiasm and can be seen weekly on the E! Network reality series, "Chasing the Saturdays."