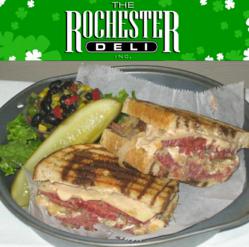 "Every year, St. Patrick's Day is about setting goals to create new memories by offering signature dishes, greeting new faces, and serving more guests," says Daniel E. Strackbein
Waukesha, WI (PRWEB) March 12, 2013
Celebrate St. Patrick's Day with a corned beef sandwich and other traditional Irish fare at Rochester Deli, 143 W. Broadway, in Waukesha.
The Waukesha deli's 9th annual St. Patrick's Day celebration starts Saturday, March 16 with traditional Irish dinners served all day from 11 a.m. through 8 p.m.
On Sunday, March 17, kick off the holiday with a hearty Irish breakfast, including corned beef hash, scrambled eggs, bacon, O'Brien Potatoes and Irish soda bread from 8 a.m. to 11 a.m. Dinner menu runs 10 a.m. through 6 p.m.
Enjoy a corned beef and cabbage dinner, traditional Irish lamb stew and corned beef sandwiches at Rochester's Deli in honor of the Irish holiday. Hand-carved Vienna corned beef is also available for sale by the pound.
"Every year I reward my customers with St. Patty's Day specials from the Rochester Deli and every year my customers rave about the food!" says Steve Kezman, CEO and Owner of KTS, Inc., in Mukwonago, Wis.
The St. Patrick's Day celebration at Rochester Deli also includes live entertainment, Irish beer, and tasty St. Patrick's Day treats like minty green brownies and iced shamrock cookies.
"Every year, St. Patrick's Day is about setting goals to create new memories by offering signature dishes, greeting new faces, and serving more guests," says Daniel E. Strackbein, certified chef and owner of Rochester Deli. "And every year we exceed our goals!"
Rochester Deli is located at 143 W. Broadway, Downtown Waukesha. Call (262) 522-9611 to place an order, or visit http://www.rochesterdeli.com for more information.
About Rochester Deli
Rochester Deli is proud to serve high-quality, custom-made sandwiches to food lovers in Milwaukee and Waukesha. Voted "Best Sandwich Shop" by the WISN ALIST for three consecutive years, 2009, 2010 and 2011, the Rochester Deli specializes in corned beef and pastrami. Rochester Deli is family owned and operated with a full menu available for dine-in or carryout. The Milwaukee area restaurant also offers wedding cakes, all occasion tortes, specialty platters and hors d' oeuvres for any size event. Full-service catering is available for groups of 100 people or less. Regular deli hours are Monday-Thursday 10 a.m. to 7 p.m, Friday 10 a.m – 8 p.m, and Saturday 11 a.m – 6 p.m. The deli is closed on Sunday. Please visit http://www.rochesterdeli.com to see a menu and learn more about this Milwaukee area gem.