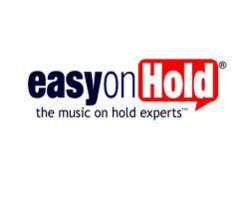 We wanted to cause the business owner or marketing director to stop and consider, 'Wow, silence on hold really is that bad.' "

Julie Cook, President
Portage, Michigan (PRWEB) March 13, 2013
Easy On Hold, a U.S.-based on hold messaging and music company, says that companies putting callers on hold in silence might just as well be putting a bag over their callers' heads. The on hold company demonstrates the point in a new video at http://easyonhold.com/music-on-hold/#.
"You're punishing your customers and your own brand when you put people on hold in silence," says Easy On Hold President Julie Cook. "We feel it's important to be up front and personal, to tell your callers what they need to know about your business, your services, special promotions, the company history, and your people. But many businesses are missing this point, so we created this 60-second video to make the point in a humorous way."
In the video, a receptionist answers the phone for the busy call center at the fictitious National Logistics company. Each time she has to place a caller on hold, she doesn't press the hold button. Instead, her solution is to place a black bag over the caller's "head"--the camera lens. By the end of the video, the caller has hung up and the receptionist, unsure of why the caller is gone, shrugs it off with a smile and takes the next call, repeating the process all over again.
"Our staff brainstormed about what it's like to be on hold in silence, and someone said it's like having a bag put over your head, so we ran with that metaphor. It's funny and yet sobering at the same time. We wanted to cause the business owner or marketing director to stop and consider, 'Wow, silence on hold really is that bad.' "
The actress is Shelagh Brown, a Michigan-based actress and singer. "Shelagh plays the well-intentioned receptionist, doing what she's been told to do with great flair, oblivious to what's going on the other end of the line with the caller. Her character and the company she works for are fairly reflective of what's going on at millions of businesses around the world. If only they realized how they're treating their callers," Cook says.
Studies have shown that when there is good information to listen to while holding, callers will stay on the line up to 25% longer because the hold time is perceived as shorter.
"Of course you wouldn't put a bag over your client's head, but when you put them on hold in silence, it feels abrupt, impersonal, like someone turned off the lights on you," Cook says. "Haven't we all been on hold and wondered, 'did they hang up on me?' And so we hang up and call back. Or maybe not."
Cook is referring to an AT&T study that showed that, after 60 seconds of silence, most callers put on hold will hang up… and half of them will never call back. "This statistic may be a bit of a shocker, but it's based on solid research from AT&T. How many calls are you losing—how many callers are you frustrating—because you put them on hold in silence? Watch the video, have a good laugh, and then give us a call. We can help you find a solution that's perfect for you," Cook says.
Easy On Hold, http://www.easyonhold.com, created in 1997, provides professional telephone recordings, music and on hold message productions, auto attendant, IVR, voicemail greetings, and web audio to companies around the world.