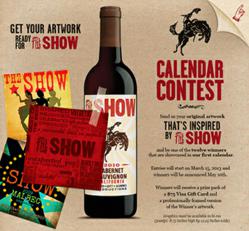 "The idea for the 2013 The SHOW Calendar Contest originated from a blogger contest we hosted in 2012," said senior marketing manager John Garaventa for The SHOW wines.
St. Helena, CA (PRWEB) March 12, 2013
The SHOW wine brand is calling for entries for The SHOW Calendar Contest, which opens on March 15, and invites consumers to submit their original artwork through April 30, 2013. From the entries The SHOW receives from artists across the country, 12 pieces of artwork inspired by The SHOW label will be chosen to adorn the inaugural 2014 The SHOW Calendar.
"The idea for The SHOW Calendar Contest originated from a blogger contest we hosted in 2012," said John Garaventa, senior marketing manager for The SHOW wine brand. "We selected 12 submissions from bloggers across the nation and decided to expand the project. Every artist, whether professional or amateur, has been influenced by another artist at some point. What truly makes this contest so interesting is asking consumers to create artwork inspired by The SHOW label Hatch Prints," added Garaventa. "Through the contest, we can help celebrate this art form."
The 12 grand prize winners will each receive a $75 Visa Gift Card and have their artwork professionally framed in addition to having their winning artwork published in the inaugural 2014 The Show Calendar. The calendars will be used to promote The SHOW wine brand.
Consumers can submit entries online from March 15 – April 30 by visiting The SHOW Facebook page: http://www.facebook.com/theshowwine
###
About The SHOW
The SHOW wine brand is sold and marketed by Trinchero Family Estates, Napa Valley vintners since 1948. The Trinchero Family Estates portfolio includes more than 30 brands such as Sutter Home, Trinchero Napa Valley, Napa Cellars, Terra d'Oro, SeaGlass, Trinity Oaks, Folie à Deux, Ménage à Trois and the number one alcohol-removed wine, Fre. TFE markets and sells Joel Gott Wines, Charles & Charles wines, and the Three Thieves group of wines: Bandit; Newman's Own; and The SHOW. TFE's import portfolio includes Angove Wines from Australia, Doña Paula wines from Argentina, Carmen Wines from Chile, Shatter Wines from France and CRUZ and Tres Agaves Tequilas from Mexico. Visit http://www.threethieves.com to learn more.
About the Three Thieves
The Three Thieves began their wine crime spree in 2001, finding killer wines they could sell at absurdly low prices. For their first release they audaciously snubbed wine tradition, bottling a Zinfandel in a retro glass jug with a screw top. It proved to be a huge hit, followed by bestselling jugs of Cabernet and Chardonnay.
They pushed the boundaries again with Tetra Pak Bandits, high-quality wine packaged in lightweight, eco-friendly, re-sealable boxes. Their next innovation was The Show, a rich Cabernet blended with Petite Syrah. The Three Thieves went on to establish a successful relationship with Paul Newman, introducing a line of wines under his popular Newman's Own brand. Each of the Three Thieves brings his own unique personality and perspective on a global hunt for the next great wine finds.
Contacts:
Nora Feeley, Public Relations Director
707-963-5928 ext. 2160 / Cell 303-589-4860
nfeeley(at)tfewines(dot)com
Carissa Abazia, Public Relations Specialist
707-963-5928 ext. 2610 / Cell 707-321-7019
cabazia(at)tfewines(dot)com