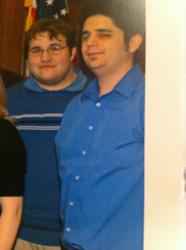 Monroe Wisconsin (PRWEB) March 12, 2013
Scott Tischler helped Troy Tischler lose 100 pounds in 90 days. These five keys to losing weight played a huge part in Troy Tischler's weight loss. With the help and support of Scott Tischler, Troy was able to lose a pound a day. It is important to note that any weight loss program should be approached with caution and any activity should be stopped if there is any pain. These are the five keys to weight loss that Scott Tischler advocates.
1. The first and most important key to losing weight is diet. The first two weeks eat only protein and vegetables. Cut out every single carb for the first fourteen days. This will force the metabolism to start burning all of the body's fat. Cut out all sugar, alcohol, and carbs for best results.
2. Slow and steady wins the race. Overtraining is the most common mistake. Attend the gym 4-5 times a week and for only 30-60 minutes each session.
3. Join a support group. It is important to have someone to talk to about weight loss goals and to help keep the motivation high. A fitness blog is a good source of support and information too.
4. Measure progress weekly. Take pictures; do full body measurements, step on the scale, and track workouts. The camera and measuring tape will show progress long before the mirror will.
5. The fastest way to melt fat off is by controlling heart rate. There are so many that spend countless hours on the treadmill and the heart rate just does not get high enough. The idea is to do a plyometric exercises as hard and fast as possible, then take a very short break. Repeat this until satisfied with cardio exercise.
With these five keys and the help of his brother, Scott Tischler, Troy lost 100 lbs in 90 days.