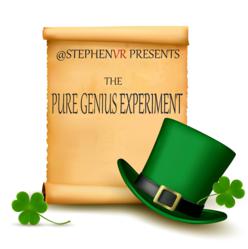 I may not be a starving artist, but I am a hungry one; I have a hunger to create things that people want to look at and enjoy doing so.
Worcester, England (PRWEB) March 13, 2013
On St Patrick's day, the 17th March, around 13 million pints of Guinness will be consumed around the world, but one pint will be left untouched.That pint will be the one at PureGeniusExperiment.com.
The website has a live video feed of a pint of the legendary Irish stout in an unusual experiment to see how long it takes for a pint to evaporate. The live feed will broadcast 24 hours a day, 7 days a week throughout the experiment. It may not seem like the most entertaining video to watch online; some might even say it makes watching paint dry seem positively exciting in comparison, but there'll be excitement for one lucky visitor who'll win a Samsung Galaxy Tablet.for predicting the date and time that the pint of Guinness has completely evaporated.
The off-the-wall site is the creation of Stephen Roberts, a man who admits to being "a little bit eccentric", and describes himself on his @StephenVR Twitter bio as an "Ideas engineer, entrepreneur, aspiring artist, author, and a dreamer".
Roberts says he has numerous other diverse ideas in the pipeline, including mobile apps, viral videos, and some projects in the field of conceptual art and, although he has no artistic background, he states with absolute confidence that his finished creations will "get noticed" because of their uniqueness. When asked how long it would be before Stephen Roberts the artist would make his debut, he says "I am hoping my first creation will be launched within the next few months. It's an idea that can be taken into app territory, and so launching the app at the same time makes sense." He goes on to say, "I may not be a starving artist, but I am a hungry one; I have a hunger to create things that people want to look at and enjoy doing so."
He says of PureGeniusExperiment.com, "This is my first attempt to make one of my ideas a reality." And he continues, "Obviously it's a very simple and off-the-wall idea with a short shelf life, but I'm hoping it will be my first stepping stone towards some of my other less wacky ideas coming to fruition". How many ideas does Stephen Roberts have in mind? "About a dozen serious ones", comes the answer. And does he have one which he believes is the most likely to be successful? "It's a viral video idea I came up with recently. I think it has the greatest potential and nobody has done anything remotely like it before and, if all goes well you'll be seeing it in October."